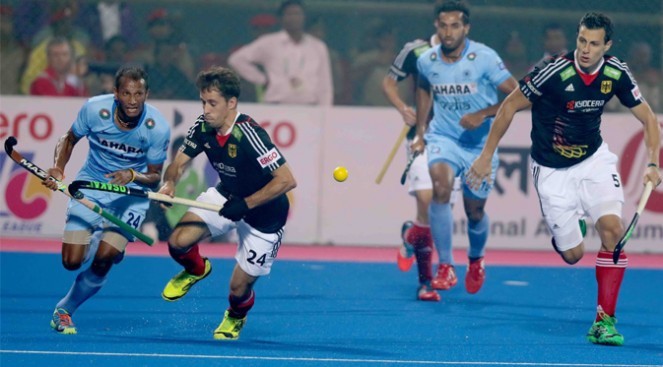 India will look to get back to winning ways when they face Argentina in the 2014 Champions Trophy's Pool B fixture at the Kalinga Stadium in Bhubaneswar on Sunday.
The hosts suffered a heartbreaking loss to Germany on Saturday as Florian Fuchs scored the only goal of the match, with just 40 seconds left on the clock.
The contest was a tightly fought one, and the two goalkeepers made some impressive stops. But Fuchs popped up with the deciding goal at the death, leaving the Indian forwards to rue some good chances they missed earlier on in the game.
However, goalkeeper PR Sreejesh - who was adjudged Player of the Match - stressed the team would rectify the mistakes they made in the match and is confident of bouncing back against Argentina.
"Germany was a very tough team. They played very well and scored in the last moment but I appreciate my teammates who put in a good performance while our forwards made some good attacks which we couldn't turn into a goal. In future matches, we will rectify that," the keeper pointed out.
The defeat stemmed a good run of results for India. The world no. 9 team has been in good form of late, clinching gold in the 2014 Asian Games in Incheon and also winning a historic Test series in Australia. They had also beaten the Kookaburras 2-0 in a practice match last week but the defeat to Germany has put them under some pressure now, with just two group stage matches to go.
Argentina, on the other hand, lost 3-0 to the Netherlands in their first match on Saturday, courtesy goals from Mink van der Weerden, Robbert Kemperman and Diede van Puffelen.
Meanwhile in Pool A, England stunned five-time defending champions Australia 3-1, while Belgium beat Pakistan 2-1.
India will now be keen to capitalise on Argentina's bad patch and post their first win of the competition. Heavyweights Germany and Netherlands clash in the other tie in Pool B.
Pool B Sunday's Schedule
Germany vs Netherlands 5.30 pm IST (12 pm GMT)
India vs Argentina 7.30 pm IST (2 pm GMT)
Where to Watch Live
Day 2 action of the Champions Trophy 2014, including India vs Argentina, will be shown live in India on Ten Sports. Viewers can also catch the match/matches via live streaming online on Ten Sports Live.
Audience across the world can live stream all the action on the YouTube channel of FIH.