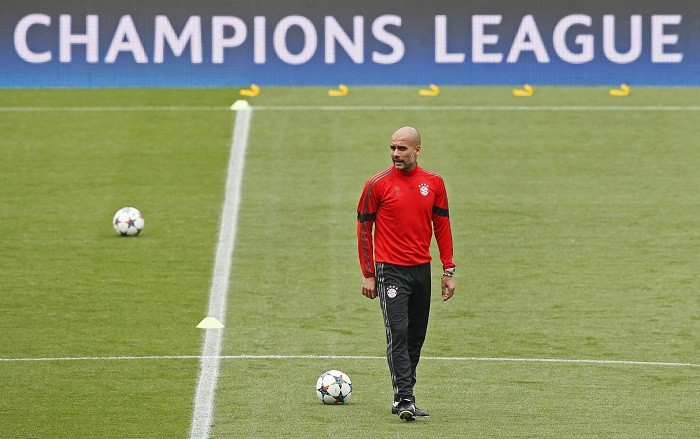 It was bound to happen, and it was only a matter of when rather than if. That when is now, Wednesday, 6 May, 2015, with Pep Guardiola returning to the club where he enjoyed unprecedented success. Barcelona vs Bayern Munich in the Champions League semifinals is a mouthwatering clash at any time; add Guardiola to it and this heavyweight contest just gets cranked up into an even higher stratospheric level.
"It's wonderful to be back," said Guardiola, whose Barcelona side are considered one of the best of all-time. "I have lots of memories. Obviously it's very special for me because I was at this club for many years.
"Now I am with Bayern and I am here for the match. That's my job and I have to do my best. This is a Champions League semifinal with two of the best teams in Europe. It won't be easy but it wasn't easy getting here. I am delighted to be here for this semifinal with a great chance to get to Berlin.
"I sat here for four years and this is my first time back. I knew that if I coached big clubs there was a possibility of coming back. I am not here for a testimonial but to do my job. I want us to play well here and in Munich."
Barcelona, under Guardiola, were the most feared side in Europe, and they waltzed to title after title, riding on the brilliance of their coach and that main man Lionel Messi.
It will be weird to see the likes of Messi, Andres Iniesta and Xavi play against a side managed by Guardiola, and only time will tell if the fact that they know each other so well will work in the favour of the Barcelona players or the Bayern Munich manager.
Even if you take away the "Oh what a great night it is going to be with Guardiola returning" fervour out of the semifinal, Barcelona vs Bayern Munich should be tasty. Two seasons back, an unstoppable Bayern Munich stormed to a 3-0 victory at the Camp Nou to complete a stunning 7-0 aggregate victory in the same stage of the competition, and while this Bayern and Barca sides are different, crazy scorelines for this tie can certainly not be ruled out again.
Bayern showed just how lethal they can be in their quarterfinals second leg win over FC Porto, putting on an attacking masterclass to overwhelm their Portuguese opponents, who had come to Munich thinking they can cause an upset after picking up an impressive first leg victory.
Even without Arjen Robben and Franck Ribery, this Bayern side have the capabilities to knock any team out, but in Barcelona, who come into this tie in better form, Guardiola and his German champions will face their toughest test yet this season.
"This is a huge tie against a real heavyweight, but I feel positive," said Barcelona manager, who has slowly but surely, made his mark in his first season with the club. "I know Pep and I know there could be surprises which could complicate matters. Over the season we have dealt with different problems and surprises our opponents have come up with.
"They are, without doubt, one of the best teams in Europe. We are not thinking in terms of beating Pep, we want to beat Bayern, one of Europe's most famous clubs.
"Defending and attacking will both be key. We have to score goals and not concede any, which means we have to be a complete team."
Possession is what both teams go by -- even if Enrique's Barca are a little different now -- and that was not the case when Bayern played Barcelona a couple of years back. That Bayern Munich team, under Jupp Heynckes, was about the quick, devastating counter-attack, so this tie should be differently played out.
"It's difficult to find a weakness in Barcelona," added Guardiola, who would have heard sentences along the same lines from opposition bosses when he was Barca manager. "We will try to maximise our strengths and find their weaknesses. Their players have been together a long time and know one another very well.
"No one has ever bettered Barcelona's possession. This team has been created for that. It will be tough to take the ball off them. But we will stick to our style and the players will do what the coach feels they have to do. We will see who reaches the final."
With Robert Lewandowski also struggling with a facial injury, Barcelona's attacking trident of Messi, Neymar and Luis Suarez clearly carry more threat on paper, but Guardiola will know that as well as anybody, and expect the Spaniard to find a way to nullify the La Liga club's goalscoring potency.
Expected lineups: Barcelona: Ter-Stegen; Alves, Pique, Mascherano, Alba; Rakitic, Busquets, Iniesta; Messi, Suarez, Neymar.
Bayern Munich: Neuer; Rafinha, Boateng, Benatia, Bernat; Lahm, Alonso, Thiago; Muller, Lewandowski, Gotze.
Where to Watch Live
The semifinal is scheduled for an 8:45 pm local time (12:15am IST, 7:45pm BST, 2:45pm ET) start, with live coverage on Ten Action, Ten Sports and Ten HD in India. The match can also be watched via live streaming online on Ten Sports Live.
Catch the action live in the UK live on Sky Sports1, while viewers can also watch the watch Barcelona vs Bayern Munich online via live streaming on Sky Go and Watch Sky Sports. US viewers can watch the game live on Fox Sports 1 or online on Fox Soccer 2Go. Audience in Canada can watch via live stream on Sportsnet World.
Audience across the world can catch Guardiola's return to Barcelona via live streaming on UEFA Video.