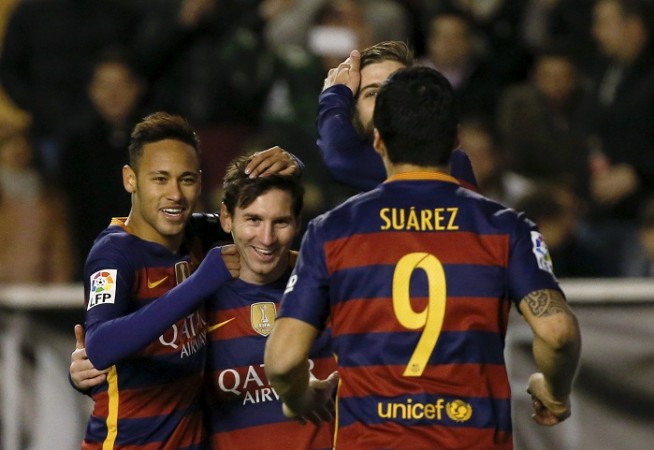 Barcelona are favourites to move into the quarterfinals of the Champions League as they face Arsenal at Camp Nou in the round of 16 second leg Wednesday. Barcelona enjoy a huge advantage after a terrific performance in the first leg where the Spanish champions defeated Arsenal 2-0.
Barcelona come into this game with some major victories under their belt in the La Liga. They have been terrific, winning their last four matches with ridiculous ease. What looks even more impressive is their goal-scoring record: 17 goals in their last four matches.
Barcelona, with their star players Lionel Messi, Luis Suarez and Neymar, are going to be huge threat to Arsenal, who will have to come up with their A game if they want to knock out the La Liga giants.
Despite a comfortable lead, Barcelona will not relax. Barca manager Luis Enrique believes the "tie is open."
"The scoreboard looks very good, but it will not change our approach nor our preparation. The tie is open and we are still in a dangerous situation, conscious that we have to be serious if we want to go through. This game does not give us time to relax," Enrique was quoted as saying by Barcelona official website.
Arsenal might be second favourites, but they have the ammunitions to trouble Barcelona. With former Barca player Alexis Sanchez, who currently represents Arsenal, and other quality players like Olivier Giroud and Danny Welbeck, Arsenal can hand Barcelona a rare defeat.
"They are a very direct team and have the capacity to make things difficult for us. They have a very good aerial game, especially with Giroud and Welbeck, and we will have to be careful if their second line moves forward," Enrique said.
The home team might be in an advantageous position due to their 2-0 lead in the first leg, but Arsenal did not play poorly against Barcelona. Arsenal were very much in the tie for the first 70 minutes or so, but Messi showed his magic with two goals in the last 20 minutes to dampen the spirit of the Gunners' fans.
After that loss, Arsenal's form has dipped tremendously, as they lost to teams like Swansea. They have won one game in seven in all competitions, which is disappointing for a team that had shown so much promise early in the season.
Arsenal players are hungry and determined for a win as they were knocked out of the FA Cup by Watford over the weekend. They are 11 points away from the top in the EPL title race as well, so they will be keen to keep their Champions League hopes alive, which is only possible if their players can find way to score goals against the home team.
Wenger is well aware of the need to score, at least score two clear goals in 90 minutes to take it to extra time.
"We are in a position where we need to score two or three goals. That demands a very [clear charge]. We know that we need to attack and take the game to them," Arsenal's official website quoted Wenger as saying.
"I felt that our approach [in the first leg] was not so bad. We lost our balance a bit just after half-time."We got caught on the counter-attack at a moment where we looked to be on top of the game, so we are in a position where I don't think we have to think too much."
Wenger also has a decision to make in their backline. Defender Laurent Koscielny is fit to play, which might force the manager to bench Per Mertesacker.
Irrespective of the match result, an entertaining game is on the cards. Both teams love to play an attacking brand of football, and the Camp Nou crowd should be entertained if both teams come with their A game Wednesday.
Watch Champions League live
Barcelona vs Arsenal Champions League last 16 second leg is scheduled for an 8:45 p.m. CET (7:45 p.m. GMT, 2:45 p.m. ET, 1:15 a.m. IST) start. Viewers in India can watch Barcelona vs Arsenal Champions League match on Ten Action and Ten HD. Viewers in India and the subcontinent can also watch Barcelona vs Arsenal Champions League live online by live streaming on Tensports Live.
UK viewers can watch the Barcelona vs Arsenal Champions League live on BT Sport Europe, with the online live streaming option on Watch BT Sport.
BeIN Sports Spain will broadcast Barcelona vs Arsenal Champions League live in Spain, with live streaming option on Bein Sports Connect.
Fox Sports 1 will show the Barcelona vs Arsenal Champions League live in the US, while the Champions League action can also be live streamed online on FoxSoccer2Go.
Audience in Indonesia, Thailand, Australia, France, Canada, the Middle East and North Africa can watch the UCL game live on TV on Bein Sports,with the live stream option on Bein Sports Connect.