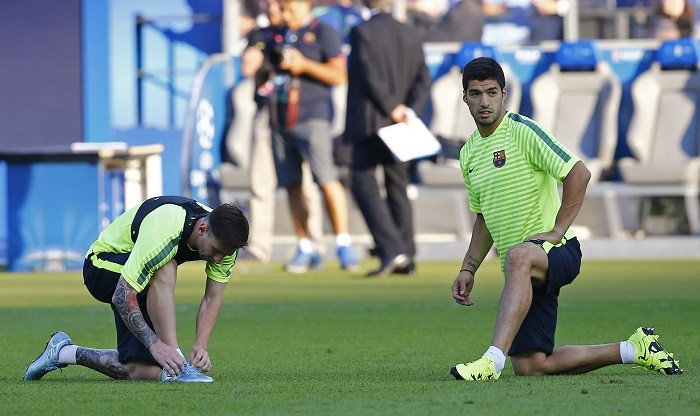 You try to look past it, knowing this is a Champions League final, and a hundred other things can and probably will matter, but you just cannot. Because, at the end of the day, the "MSN" three will decide the outcome of the Champions League final between Juventus and Barcelona.
Lionel Messi, Luis Suarez and Neymar – three ridiculously talented attackers, capable of unlocking any kind of defence, be that one holding a high line with a full-press, or be that staying compact, trying to cut off any supply through the middle – will be the cynosure.
If Messi, Suarez and Neymar turn it on, like they have in most big games this season, Barcelona will win; there are no two ways about that, it really is that simple, and the kind of form that Messi, in particular, has showed over the last couple of months, it seems almost inevitable. If the trio do not find their mojo on Saturday in the Champions League final at the Olympiastadion in Berlin, though, Juventus will be very much in the game.
A feet-barely-touching-the-ground run, with the ball glued to his left foot, awareness of what is exactly there ahead of him, and then the ability to make the right decision, be that by firing a strike past Gianluigi Buffon or making the right pass for an open player – usually Neymar or Suarez – for a tap-in, that is what Messi has been doing ridiculously often this season.
The scary part is that all three of them are capable of doing it, and how the Juventus defence copes with this potent threat will be the defining contest of the final.
"Messi, Neymar, Suárez, it's the usual question since the semifinal -- how do you stop them, how do you stop them? We need to be very skilled but we need to recognise we're not going to [play for a] draw, we need to score.
"How do you stop Barcelona? We need to think how to score. We need to be strong technically because they're a technical team and attack is their best weapon so we need to be very, very aware of that."
Scoring goals has not been a problem for Juventus, with their main man Carlos Tevez in sparkling form himself, having scored seven goals in 12 matches in the Champions League this season. The fact that all the attention, in terms of the attack is on Messi, Suarez and Neymar might also work in the favour of Tevez and Alvaro Morata, who certainly did the business against Real Madrid, who also have an attacking trident to rave about.
"I imagine we'll have more possession, we hope to spend more time in their half," Barca manager Luis Enrique, who has defied all expectations by leading Barcelona to the verge of a treble, said. We'll have to play at a high level, it's going to be a difficult match.
"Juve have a very similar style to ours, they also need the ball. They're very good in defence, they're very resourceful and that's why they're in the same position as us -- they can win the treble too. We know Juve will want and they're going to pressure us. Who will win depends on who adapts better to those situations."
This will also be Xavi Hernandez's final match as a Barcelona player, the midfielder considered to be the greatest ever Spain has created. So how fitting it would be that the winning goal comes via the boot of Messi, after a series of passes orchestrated by the chief orchestrator of them all – Xavi, like it so often has over the past 17 years.
Just don't expect Juventus to fall into that plan.
Where to Watch Live
Get the Video Highlights and All the Goals HERE
Get the Match Report HERE
Juventus vs Barcelona Champions League 2015 Final is scheduled to begin at 8.45 pm local time (12.15 am IST, 7.45 pm BST, 2.45 pm ET). Live coverage of the entire Champions League final in India and the rest of the Sub-Continent will be on Ten Sports, Ten Action and Ten HD, while the live streaming option is on Ten Sports Live.
Audience in the UK and Ireland can catch the Champions League 2015 final live on Sky Sports1, Sky Sports5 and ITV1. Viewers can also live stream the action on Sky Go, Watch Sky Sports and ITV Player. Listeners in the UK can listen to the big match live on BBC Radio 5 Live.
Viewers in the US can flip their remotes to Fox Sports to watch the UCL final live, while the game can also be live streamed on FoxSoccer2Go. The radio option is on ESPN Deportes Radio and SiriusXM FC.
ESPN and SBS One are the channels to watch Barcelona vs Juventus in Australia and New Zealand, while the match can also be live streamed on ESPN Player.
Viewers from across the world can live stream all the Champions League action online on UEFA.com.