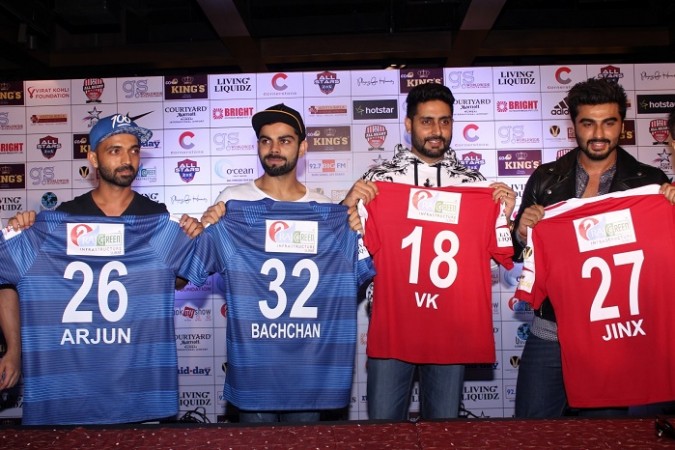 A charity football match between Virat Kohli's All Heart FC and Abhishek Bachchan's All Stars FC was held on Sunday and it ended in a 2-2 draw. Irrespective of the result, the game was played for a noble cause and that happened to be the ultimate winner at the Mumbai Football Arena in Andheri Sports Complex.
Abhishek Bachchan's 'Playing for Humanity' and India Test skipper Virat Kohli's charity 'The Virat Kohli Foundation' came together to organise this star-studded match so that they can raise some funds for those who have been severely hit by drought in Maharashtra.
Virat Kohli, who was the captain of All Heart FC, had Indian cricketers like MS Dhoni, Yuvraj Singh, Shikhar Dhawan, Harbhajan Singh, KL Rahul, Ashok Dinda and Manoj Tiwary, among a few more.
Whereas, All Stars FC was captained by Bollywood star Ranbir Kapoor and had Aditya Roy Kapoor, Shoojit Sircar and Raj Kundra in his ranks.
Shoojit Sircar opened the scoring for All Stars FC and the second goal was scored by Ranbir Kapoor's trainer Antonio Pecora. But Kohli's side did not take much time to reply with two goals from Yuvraj Singh and KL Rahul.
"Well it was a draw and we're very happy because the last time we played we lost by one goal. I'm very proud of Ranbir and the entire team. They played with all their hearts. We are very proud and honoured that we got the opportunity to play against the Indian cricket team," Abhishek was quoted as saying by PTI.
"A draw is as good as a win. At the end of the day, we did this for a great cause -- to raise awareness and funds for drought victims. It doesn't matter who wins or loses. The people we did it for win at the end of the day."
Ranbir Kapoor, who himself owns the ISL franchise Mumbai City FC, was happy to play for such a clause.
"It's been my favourite sport since childhood and we all took it seriously. We play every Sunday. We're really happy that we can play for such a good cause," Ranbir said after the match.