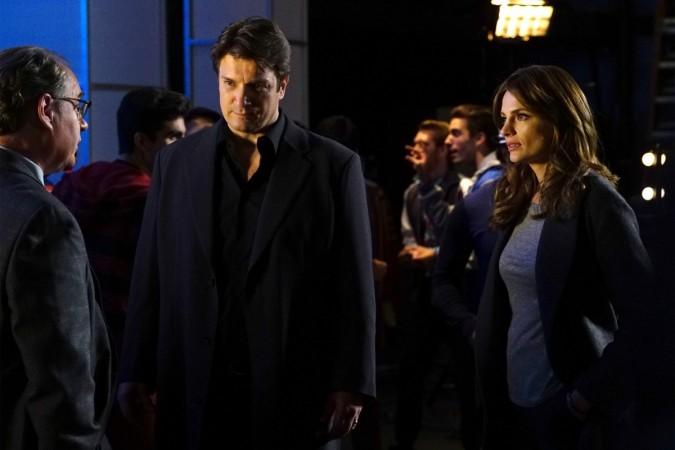 "Castle" Season 8 finally returns from it long midseason break. The show went on a hiatus after airing Episode 8, "Mr & Mrs Castle" on 23 November, 2015. And now, after postponing the midseason premiere date once (from 1 February, 2016), ABC is all set to return with the second half of this crime-procedural drama, this Monday. The fans can finally expect to watch Episode 9, "Tone Death" on 8 February, 2016.
CLICK HERE to watch "Castle" Season 8 Episode 9 live online. And, CLICK HERE to watch "Tone Death" later online.
For those who may have forgotten how the midseason finale ended, "Mr & Mrs Castle" witnessed the much-awaited Rick Castle and Kate Beckette reunion. The couple got back together after they worked together to solve a case on a cruise. At the end of Episode 8, after Beckett failed to catch someone, who's part of the Drug Cartel, she realises that she can't do it alone and admits it to Castle that she needs his help on this. Hence, the two end up reconciling.
In Episode 9, the couple though has reunited, will fake being separated in front of everyone and will hook up/ date secretly. In fact, even the promo of "Tone Death" teases that Kate-Rick will end up getting intimate and share private moments in the bedroom.
As far as the case is concerned, the synopsis hints that Rick-Kate, along with the team will be investigating the death of a high school capella singer.
Synopsis of Episode 9, "Tone Death" (via TV.com) reads: "When a corpse is discovered in the theatre of Martha's latest show, Castle and Beckett's investigation reveals surprising details about the world of competitive a capella."
"Castle" Season 8 Episode 9 will be aired on Monday, 8 February, 2016, at 10 pm, on ABC.