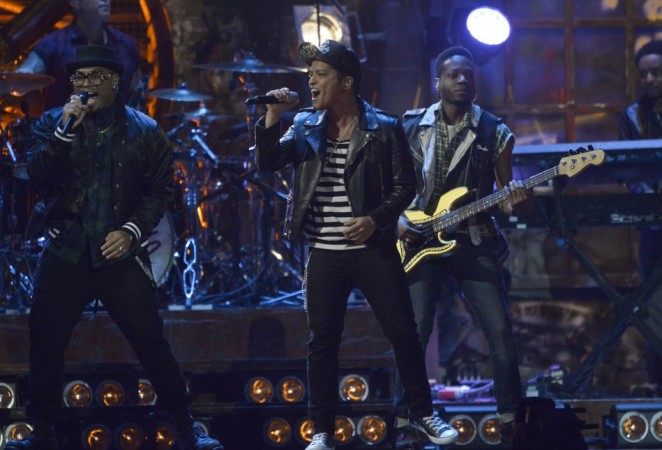 Give James Corden an award for putting together epic Carpool Karaoke episodes. The host of The Late Late Show With James Corden has outnumbered himself this year as he brings the year-end with the Bruno Mars. Hopping on Corden's car to drive through a sunny day, the two will be seen singing along hit numbers like 24K Magic, Just the Way You Are and Grenade.
After staying out of the musical scene for a while now, Mars has returned with a bang. His new album, 24K Magic, has been climbing up the musical charts ever since he released the official song. The title song has already two hundred thirteen million views on YouTube. Bringing his album and his sassy swag to fans, Mars spent some time driving through the traffic with Corden.
The singer will be featuring on the segment after Madonna's scandalous episode. In the trailer, Mars is seen sporting a cap, with 24 written in Roman letters, and a pair of aviators has he drives in the front seat. It is evident that he will be singing along his latest hit single, 24K Magic. Apart from that, viewers can expect Mars reliving his hits like – Just the Way You Are, Grenade and The Lazy Song.
The popular segment of The Late Late Show With James Corden has seen celebrities that include Adele, Selena Gomez, Justin Bieber, Sia and has even featured Michelle Obama. In an interview earlier this year, Corden listed down a few celebrities he wished could feature in the segment. He shared that he wanted names like Beyoncé, Sam Smith and Bruno Mars to be a part of the musical episode and share a ride with him. With Mars featuring this week, the TV show host can successfully strike off one name the list.
The Late Late Show with James Corden airs weeknights at 12:37 am on CBS, and Bruno Mars' Carpool Karaoke airs this Tuesday, December 13. You can catch the entire episode here. Or can stream it on YouTube by clicking here.
You can catch the first look into the musical journey below: