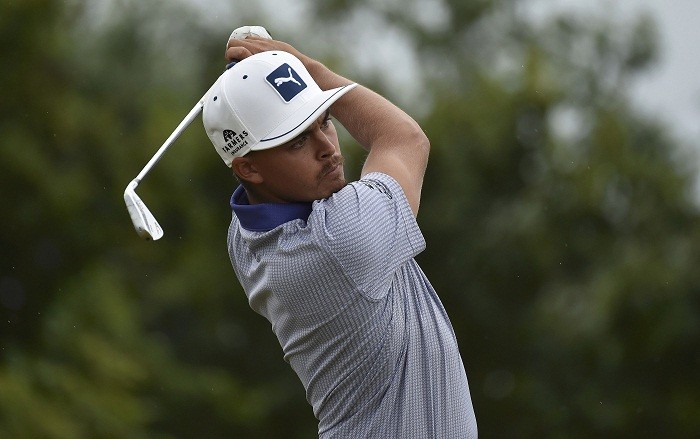 Rory McIlroy, chasing his first British Open title, raced away with the lead in the third round of the Open Championship, followed by American Rickie Fowler, who is six strokes behind the Irishman.
It will be a colossal task for Fowler to beat McIlroy on the fourth day, after the two-time major winner produced a scintillating performance on Saturday. He struck two eagles to fashion a huge advantage over the remaining pack and carded 16-under par.
Fowler, who is 10-under par after three rounds, said he will try to create pressure on the former world number one and insisted that despite being six strokes behind, he still has a realistic chance of winning the Claret Jug for the first time.
"There is a fine line, so much can happen so quickly," Fowler said. "I was six back going in to today, if I can get off to a good start and put pressure on; there is still a lot of golf to be played."
"Being alongside him is an advantage tomorrow, we are going to have a good time, if I can put pressure on and make him earn it and see if we can get myself in the mix," he added.
McIlroy did not make best of the starts on Saturday but he quickly responded to the pressure created by Fowler and finished on top at the end.
The 2012 US Open winner, however, insisted he is not thinking about winning the title just now, despite topping the leader board on the third consecutive day.
"I feel like today my patience was rewarded," McIlroy said. "I didn't get off to the best of starts. I wasn't able to take a few birdie chances around the turn and then dropped a shot at the 12th but the finish speaks for itself.
"I feel very comfortable. I was in here last night talking about being comfortable. This is the third night in a row I will sleep on the lead and I'm still comfortable."
Meanwhile, Australian Adam Scott, who is on tied seventh, is also not ruling himself out of championship contention. The world number one, who finished three-under 69 and is 10 strokes behind the leader, stressed that there are opportunities to gain ground.
"It's pretty exciting. If you're a few [shots] back you're in it," Scott said. "Two eagle chances and a legitimate birdie chance down 17 when the wind is down like it is then lots can happen."
"If it's really windy then certainly lots can happen. I think probably a good mindset would be that you're not out of it tomorrow and if you're a few back you've got a good chance."
Three-time champion Tiger Woods showed improvements in the third round but the American is now out of title race, after finishing the day on tied 58th.
"I'm starting to get the flow of the round, the flow of playing again," Woods said. "But still I've just made too many mistakes. You can't run up high scores like that and expect to contend, especially when the conditions are this benign. Most of the scores are 3-under par or better. I certainly didn't do that."
Where to Watch Live
The fourth round action will start at 1:30 pm IST (4:00 am ET, 8:00 am GMT and 9:00 am BST) with live coverage on Star Sports HD2 in India and catch the live updates HERE or HERE. The Tournament will be available live on BBC in the United Kingdom with online streaming option HERE and on BBC Red Button, catch the live updates HERE or HERE or listen to the action HERE.
ESPN will telecast the tournament live in the United States and in Pan Latin America with a live streaming option HERE. Watch the tournament in South Africa and Sub Saharan Africa on SuperSport with online streaming option HERE.