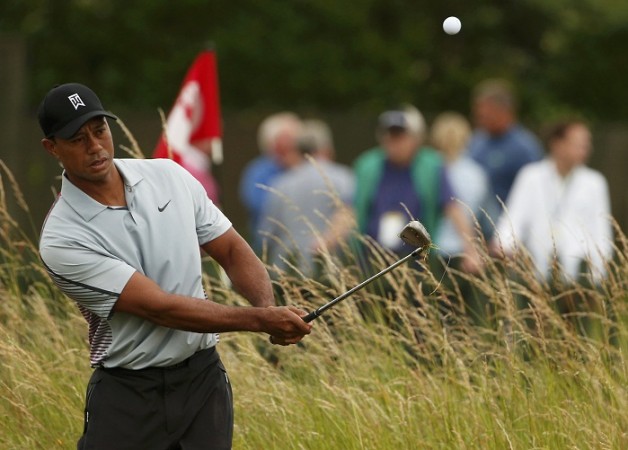 The 143rd British Open will commence at the Royal Liverpool Golf Club on Thursday with three-time champion Tiger Woods, former world number one Rory McIlroy and Indian Anirban Lahiri will be in action on the opening day.
Woods arrived early for the tournament and had one extra day for the preparations and acclimatise himself with the changing conditions. The 38-year-old, however, is aiming nothing less than a win in the championship, but there are question marks over his form.
The 14-time major winner played only a couple of rounds in his last tournament and missed the cut by four strokes. Woods has not won a tournament in past one year and he spent three months away from the golf course because of a back surgery.
"I've been in circumstances like this," Woods insisted. "If you remember in '08 I had knee surgery right after the Masters. I won a U.S. Open. I didn't play more than nine holes, and the Sunday before the U.S. Open I didn't break 50 for nine holes and still was able to win it in a playoff, with an [torn] ACL and a broken leg."
McIlroy, meanwhile, is aiming to end his woeful run in the British Open, as in his last six attempts the Irishman managed to finish inside top-20 just once in 2010, when the 25-year-old opened his campaign with a 63, but slipped down after a terrible 80 on next day.
"The Open Championship is a tournament that's very important to me, and my record in it hasn't been as good as I'd like," McIlroy said. "I'd love to improve on that."
The former world number one has played spectacularly well in the opening day in past few tournaments that is followed by a performance, which do not resemble to a player of his class. Last week he opened the Scottish Open with a 64 followed by 78 in the second round.
"I may be putting a bit too much pressure on myself going out on Fridays and trying to back up a score," said McIlroy. "I have no problem shooting a low one on Thursday. There should be no reason I have any problem shooting a low one on Friday."
"It's something that I need to go out and pretend like it's a Thursday again and go out and just - I don't know," he added.
Lahiri, the only Indian competing in the tournament is in good form lately by winning the Indonesia Open, his first tournament win outside India. He received a late call for the Open, but the 27-year-old insisted that he is mentally prepared and ready to make a mark at the Royal Liverpool Club.
"I've been getting myself mentally focused, not just getting over the initial thing of being in it, but move on to the next stage of getting mentally ready, be calm and prepare for the conditions and the rest of it that follows. I've been doing that for the last few days and I feel like I'm ready," Lahiri said.
Meanwhile, the tournament organisers confirmed that former champion Mark Calcavecchia will not be participating because of travel-related issues. Canadian David Hearn has replaced Calcavecchia and will be playing first two rounds with Todd Hamilton of America and three-time winner Nick Faldo.
Where to Watch Live
The first day action will start at 1:30 pm IST (4:00 am ET, 8:00 am GMT and 9:00 am BST) with live coverage on Star Sports HD2 in India and catch the live updates HERE or HERE. The Tournament will be available live on BBC in the United Kingdom with online streaming option HERE and on BBC Red Button, catch the live updates HERE or HERE or listen to the action HERE.
ESPN will telecast the tournament live in the United States and in Pan Latin America with a live streaming option HERE. Watch the tournament in South Africa and Sub Saharan Africa on SuperSport with online streaming option HERE.