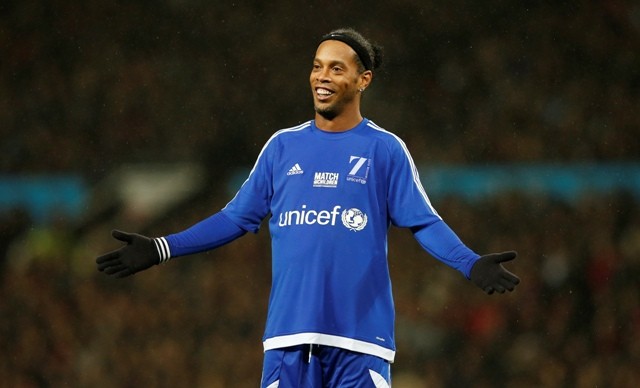 Brazil football superstar Ronaldinho made heads turn and ensured football fans in "God's own country" Kerala have some moment to savour, as the World Cup winner came down to Kozhikode for an event on Sunday.
The ex-Barcelona and AC Milan hotshot inaugurated the Sait Nagjee International Club Football Tournament, which is scheduled to start in the city on 5 February.
The football tournament, started way back in 1952 by football fans in Malabar, got a massive facelift this time as one of the greatest exponents of the beautiful game, Ronaldinho, arrived to grace the inauguration ceremony.
"Football has the power to unite people. It has given me an opportunity and taught me universal values of Friendship and Unity," Ronaldinho was quoted as saying by PTI.
"I am supporting the work carried out by Football for Peace Global, and am proud to be the guest of honour of the Nagjee International Club Football tournament and becoming a footballer for peace," the 35-year-old added.
The introduction of Indian Super League side Kerala Blasters has given much-needed impetus to football in the state, and the organisers are trying to build on the success of the growing enthusiasm among football fans by giving a facelift to old competitions as well.
The Brazilian was also linked with a move to ISL in both seasons, and Kerala Blasters was also a rumoured destination.
Meanwhile, on Monday, Ronaldinho escaped unhurt after a rusted pole of a traffic signal fell on the middle of the road, with the footballer's vehicle just a short distance away.
The Brazilian was travelling from a local school in Kozhikode to the Karipur airport.
Check out how the football fans got their million-dollar moment after they came face-to-face with Ronaldinho during the Sait Nagjee Football Tournament inauguration ceremony.