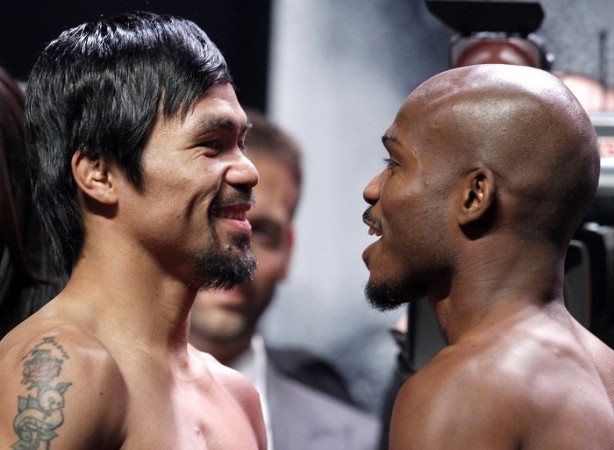 Manny Pacquiao will look for revenge and redemption when they Filipino legend looks to get the better of Timothy Bradley in a cannot-miss rematch at the MGM Grand Garden Arena in Las Vegas on Saturday.
Where to Watch Live
The programme is scheduled for a 9 pm ET start (2 am BST, 6.30 am IST) start with live coverage on HBO in the US and Box Nation in the UK. The big fight between Pacquiao and Bradley will follow the two undercard fights. Viewers in the US can catch the action via live streaming HERE or HERE, while Australia viewers can live stream the action HERE. UK viewers can do so HERE or HERE.
Pacquiao will look to avenge his controversial defeat to Bradley in 2012, with the 34-year-old looking to carry on from his impressive win over Brandon Rios in November.
While the Filipino might not be the force he was a few years back, when he was undoubtedly the best pound-for-pound fighter, Pacquiao is determined to prove he is still the best out there, with much of Bradley's pre-match barbs aimed at his opponent's lack of aggressiveness and killer instinct over the past couple of years.
"That hunger that he's looking for, that's no longer there and he can't get it back," Bradley said. It's gone. It's gone. It is, Manny. It's gone. It's not there anymore. I truly believe that. The killer instinct, that's what I'm saying. He's not the same as far as that.
"I've heard in the past and read in the past from [trainer] Freddie Roach's own mouth that Pacquiao is too compassionate. He's compassionate with his sparring partners. I'm begging his sparring partners to go in there and try to knock his head off to light a fire.
"His last fight when he fought against Rios, I really had never seen Manny Pacquiao step back before, especially when he has a guy trapped in the corner. I saw that and I was like, something's different, something's totally different."
Pacquiao, who is confident of winning the WBO Welterweight title from Bradley, does not believe he has lost that killer instinct, so necessary in the sport.
"My motivation is the same now as it was when I started my boxing career," said Pacquiao, who has not had a knockout victory since 2009. "I love the competition, and I love to win. When that stops, so does my professional boxing career. But I don't see that happening for a long time."