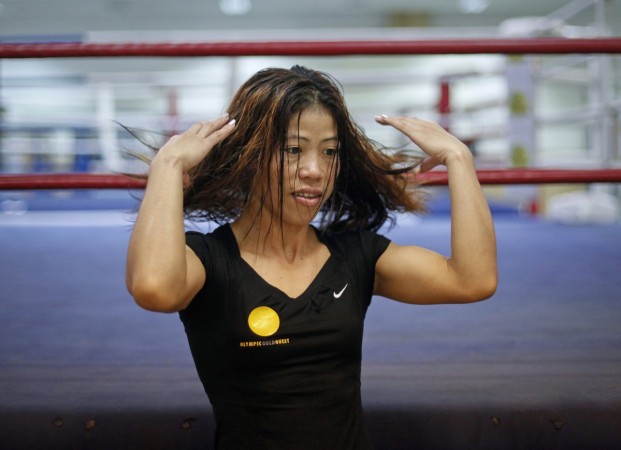 Star Indian boxer Mary Kom took oath as a Member of Parliament (MP) on Tuesday. The London Olympics bronze-medallist had been nominated by the Prime Minister's Office (PMO) for the Rajya Sabha membership just days ago.
The 33-year-old Manipuri is the third sportsperson after former cricketers Sachin Tendulkar and Navjot Singh Sidhu to be currently nominated to the upper house of Parliament.
Mary Kom has still not booked a place for quota place for the country in the 2016 Rio Olympics, and therefore is not willing to pressure herself with the new assignment. She, however, said she was surprised on getting the honour.
"It was a great honour to be nominated for Rajya Sabha. It was a sudden development and I was surprised. When I was told that I would be nominated for the Rajya Sabha, I started thinking what would I do as an MP," Mary Kom was quoted as saying by the Press Trust of India.
"I have not qualified for the Olympics yet and till I qualify for the Olympics, I am not going to think about what would be my role as a Parliamentarian. Doing that will put pressure on me in my effort for the Rio qualification. So, my sole focus is now to qualify for the Rio Olympics," added the five-time world champion.
However, now that she is officially an MP, Mary Kom revealed her immediate task after the 2016 Rio Olympics would be to try and uplift Indian sports and sportspersons. "I will try to do my best and work for the upliftment for Indian sports and sportspersons. I am a boxer but I will work for the betterment of all the sports," she said.
After losing out on booking a berth for the country in the 2016 Rio Olympics at the Asian Qualifying Tournament in China last month, Mary Kom has yet another chance during the 2016 AIBA Women's World Boxing Championships, scheduled for May in Kazakhstan.
Meanwhile, Bollywood superstar Salman Khan, who was appointed as the Goodwill Ambassador for the Indian contingent in the 2016 Rio Olympics, has commended Mary Kom for her winning attitude.
Watch Mary Kom take oath as Rajya Sabha member (Video courtesy: Mango News):