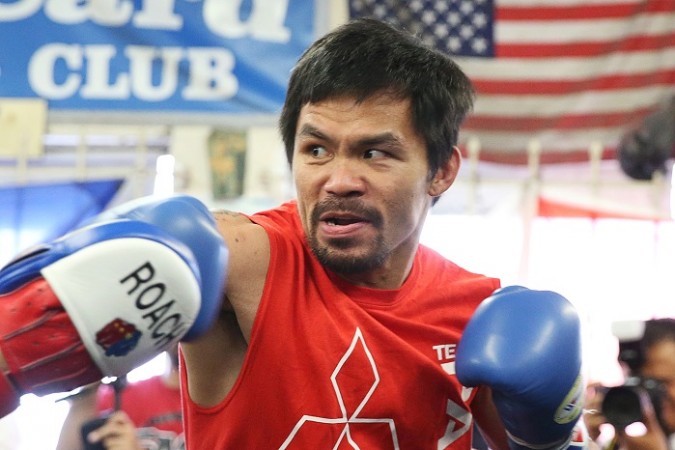 Manny Pacquiao has been one of the greatest boxers of this generation, and the Filipino is set for a huge clash against American Jessie Vargas for the welterweight title on Saturday. This bout at Thomas & Mack Center in Las Vegas also marks the comeback of Pacquiao, who had decided to call it quits after his bout against Timothy Bradley earlier in the year.
However, the boxer-turned-politician agreed to come out of retirement, which was made possible with huge help of promoter Bob Arum.
Click here to read how Pacquiao dominated Vargas to clinch title
Now that he has decided to make this fight happen, the Filipino will be keen to script yet another impressive win in his great professional career so far. He was won 58 fights in his pro boxing bouts so far. With him being a senator in the Philippines, he could not prepare for this bout as he has done for other fights in the past, but Pacquiao was involved in some tough training sessions with sparring partners to get ready for Vargas.
Pacquiao, no matter what, will walk into this bout as huge favourite. He has demolished boxers in the past with his aggressive approach, and have knocked out some of his opponents en route to victories. The Filipino is known as a swift boxer and pugilists have found it tough to stop him when on song. But, Pacquiao is not the same boxer what he used to be with age also catching up. Having said that he still has that class, and experience, which should come handy, to defeat Vargas.
Pacquiao, who is happy to make a comeback, has set his sight on winning the title.
"I'm happy to be back. I want to put on a good show and have another boxing record. It's motivating because I am the challenger this time and I am fighting a champion. [Winning the belt back] would mean a lot and would bring honor to my country," ESPN quoted Pacquiao as saying.
Though experts and fans expect Pacquiao to win, Vargas, as an underdog, will come all guns blazing. Make no mistake, Vargas is a great fighter, who has won 27 of his 28 bouts. His only loss came last year to Bradley. Vargas should also consider himself lucky to fight a boxer of Pacquiao's stature, and the American will also earn $2.8m from the bout. Pacquiao will make more than $4 million.
The American, who loves to fight in an aggressive manner, has won several bouts via knockouts and some were easy victories, but this match against Pacquiao is the biggest test of his career. And if Vargas manages to stun the Filipino, the world will sit up and take notice, helping him earn huge fame.
Vargas wants to come up with a solid fight and prove that he is the best in his division. He wants to become a legend.
"I feel great and I'm here to give the fans a great fight and come out on top and prove I'm the best in the welterweight division. We've worked hard for this and I have no doubt about the outcome. Manny Pacquiao has had a great career and it would mean the world to beat him, and that is what I am ready to do. I want to become a legend," Vargas said.
Though Pacquiao has come out of retirement, it is not known if he will continue after this bout as he has some huge responsibilities as a senator in the Philippines. However, the outcome of this bout might play an important role in helping Pacquiao and his team decide on the future. Will he fight some more bouts or is is this his last match ever, again?
Irrespective of it being his last or not, one can expect an entertaining bout with both Pacquiao and Vargas being aggressive boxers.
Where to watch live
Pacquiao vs Vargas bout is scheduled for 10 pm ET on Saturday ( 2 am GMT, 7:30 am IST, 10 am Philippines time [Sunday]). Unfortunately, there is no live coverage in India, but here are some TV options below for other nations.
TV: UK: Box Nation on PPV (channel 437 on Sky, 490 for HD)
TV: US: HBO on PPV
TV: Philippines: Solar Sports