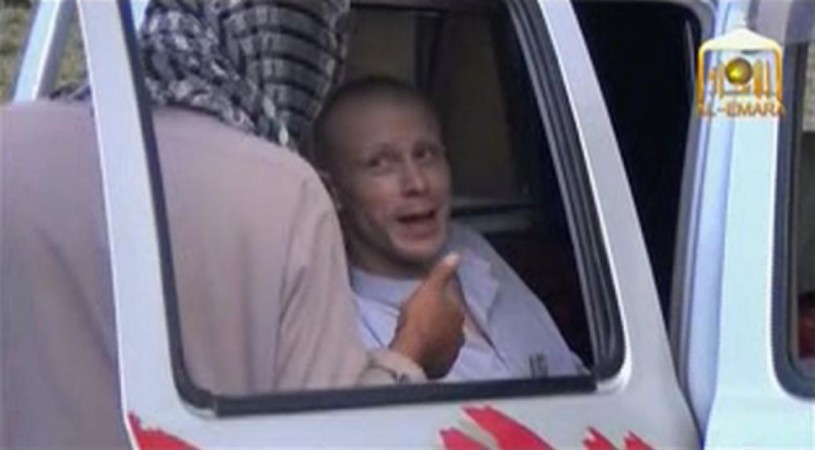 Taliban has released a video showing the moment when US soldier, Bowe Bergdahl was handed over to the US forces, after being held captive for five years.
The video, reportedly captured in Khost province of Afghanistan, shows Bergdahl sitting in a pick-up truck, before being walked to a helicopter.
Bergdahl was handed over to the US Special Forces by the Taliban on Saturday, with the government of Qatar serving as a broker. In exchange, the United States released five Guantanamo Bay detainees.
However, the deal has caused a row in the US Congress.
Congressional Republicans on Sunday said they wanted more answers from the Obama administration on the prisoner swap that led to the release of the Taliban-held soldier, Bergdahl, warning the deal could put American lives at risk.
Republicans have described the five Guantanamo detainees, who have now been transferred to Qatar, as "high risk people" and condemned the deal as "negotiating with terrorists."
US Defense Secretary Chuck Hagel later denied the allegations.
White Flag, Handshakes
The footage, released on Wednesday, shows the soldier dressed in traditional Afghan clothing as he sits in a truck waiting for the helicopter to arrive. Many armed men with covered faces are also seen in standing next to the vehicle.
A Black Hawk helicopter is then seen landing as the Taliban fighters – one carrying a white flag – lead Bergdahl to a meeting point midway. US officers and the Taliban militants are also seen shaking hands with each other before the soldier is taken away by the US officials.
Before letting him enter the helicopter, US officials are also seen quickly frisking the soldier.
The exchange took place in Ali Sher district of Khost province located near the Pakistan border.
No Negotiations With Terrorists
Since the deal took place last week, a growing number of opposition Republicans have been criticizing the Obama administration for negotiating with terrorists and risking the possibility of the five detainees released from Guantanamo Bay rejoining the terrorist group.
"We didn't negotiate with terrorist," US Defense Secretary Chuck Hagel said on NBC's 'Meet the Press' last week. "And I said and explained before, Sergeant Bergdahl is a prisoner of war. That's a normal process in getting your prisoners back."
The republicans, however, have been stubbornly arguing that the deal was a dangerous gamble. They also lashed out at the White House for failing to meet a legal requirement that the Congress receive notification when prisoners are released from the detainee facility at Guantanamo Bay.
"It is disturbing that these individuals would have the ability to re-enter the fight," Sen John McCain, who has himself been a prisoner of war in Vietnam, said on CBS's 'Face the Nation'. "And they are big, high-level people, possibly responsible for the deaths of thousands."