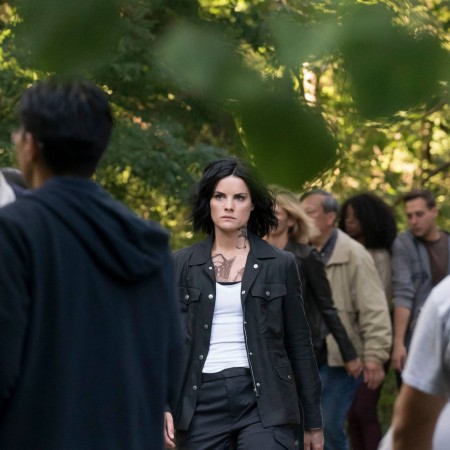 Jane will face the fire from both sides in season 2 episode 3 of Blindspot. In Hero Fears Imminent Rot, Jane will be asked to prove whose side she's on and suffice to say that she will make her choice known.
[Spoiler Alert]
So far, Jane has been able to play the double agent pretty convincingly. But all of this will change in the upcoming episode of the TV series. Her mother Shepherd and brother Roman will ask her to be on their side.
In the promo, Shepherd tells Jane, "You need to prove you're still one of us." When Jane asks if she has to take a test, her adoptive mother says, she has to be an assassin.
Shepherd and Roman, who are part of Sandstorm, the group who wants to see the US destroyed, give her a bag loaded with explosives and Jane has to ensure that New York City is engulfed with bombs. However, her test doesn't end her.
The video clip captures Roman handing his sister a gun and asks her to fire it at someone they want killed. In the promo, Jane looks perplexed and hesitates before she can carry out the mission. Does she kill her own brother instead? After all, her loyalties do lie with Weller and co.
Season 2 episode 3's synopsis (via TV Guide) reads:
A series of bombings occur throughout New York City, and Weller and the team race to stop them. Meanwhile, Jane's loyalty is tested with an assassination mission.
Blindspot season 2 episode 3 airs at 8 pm EST on Wednesday, 28 September, on NBC. You can live-stream the episode via NBC Live.