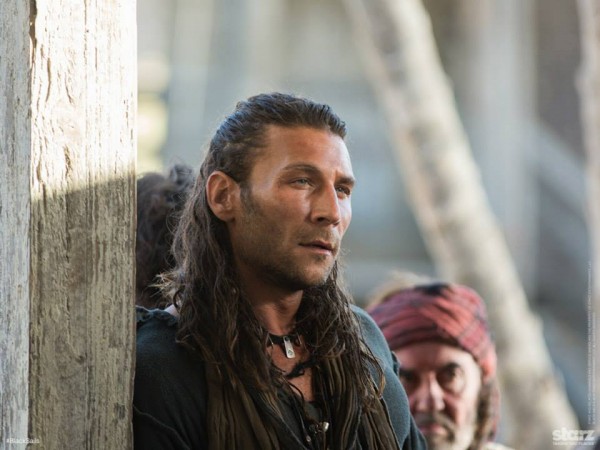 Charles Vane (Zach McGowan) faces a dilemma in the latest episode of "Black Sails" and it remains to be seen if he makes a decision towards the end of Season 3 Episode 5 titled "XXIII."
The upcoming episode will depict Vane and Teach's (Ray Stevenson) journey. The pirates will bid their goodbyes to Nassau and embark on a new beginning. Teach a.k.a Blackbeard will provide the strength and the mental stability that Vane very much needs.
In the promo, Teach tells Vane, "I know you're conflicted about what you've left behind. But the question is whether you can cling fast to the truth we both hold in our heart, the truth that makes us of the same minds. A Lion keeps no den."
Teach urges Vane to let go of the feelings he harbours for Eleanor Guthrie (Hannah New) and the New Providence Island. Nevertheless, it will be difficult for him to forgo the recent revelation that Eleanor was the one who put a price on his head.
Will Vane decide to turn around and go back to Nassau? Will he kill his mentor, Blackbeard, to achieve what he wants?
The promo pictures released by Spoiler TV indicate that a scuffle will break out on the ship. Vane and Teach have their swords drawn out and their faces are plastered with blood. However, it isn't yet clear who survives in the end.
Elsewhere in the episode, John Silver (Luke Arnold) will ask Captain Flint (Toby Stephens) to find a way out of their prison life. The cook earlier asked Flint to take advantage of the tension between the Queen and her daughter. Although Flint dismissed the plan in last week's episode, it remains to be seen if a desperate Flint will be ruthless in order to save himself and his crew.
Season3 Episode 5's synopsis released via TV Guide reads:
Vane finds a new way forward from Teach; Silver urges Flint to make a move or die; Eleanor and Rogers respond to a new threat.
"Black Sails" Season 3 Episode 5 airs on Saturday, Feb. 20, at 9 p.m. on Starz. You can live stream the episode here.