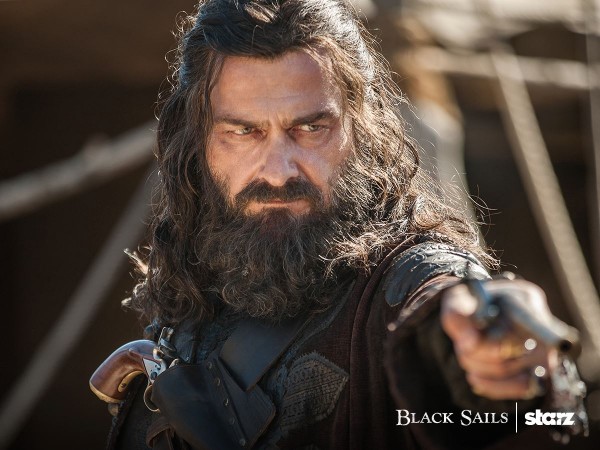 Throughout Season 3, Nassau has been fraught with wars, death and the loss of independence. However, the dream to remain free from the clutches of the British will overtake Captain Flint and he will continue to fight for his land and people. This will be the crux of Season 3 episode 10 of "Black Sails."
Season 3's penultimate episode indicated how the season would end. The fight between the pirates and the British in episode 9 turned ugly when Eleanor Guthrie (Hannah New) ordered her ex-beau Charles Vane's (Zach McGowan) death. The late captain's hanging was shocking. However, his impassioned speech just before his death stirred the hearts of the pirates and Vane, in his last moments, laid the course of the rebellion.
[Spoiler Alert]
The promo for episode 10 indicates that Captain Flint (Toby Stephens) will gather a force to contend the strength of the British. In the video clip, Flint's men look focused on defeating the British Royal Navy. They even manage to do some damage to Woodes Rogers' (Luke Roberts) fleet.
While the British suffer from a weak morale, the pirates' spirit might be emboldened by the presence of Edward Teach (Ray Stevenson). Blackbeard may join Flint to avenge the death of Vane. After all, Vane was like his son in many ways.
Despite the small successes that Captain Flint might face, a Fashion & Style article claimed that the pirates might be outnumbered by the British forces. If that is indeed true, then Nassau's landscape will change when Season 4 airs.
Season 3 episode 10's synopsis (via Starz website) reads:
Rogers and his forces come for the pirates. Rackham and Bonny face impossible odds. Silver demands answers from Flint. Billy crowns a King.
"Black Sails" Season 3 episode 10 will air 10 p.m. Saturday, March 26, at on Starz. You can live-stream the episode via Starz's website.