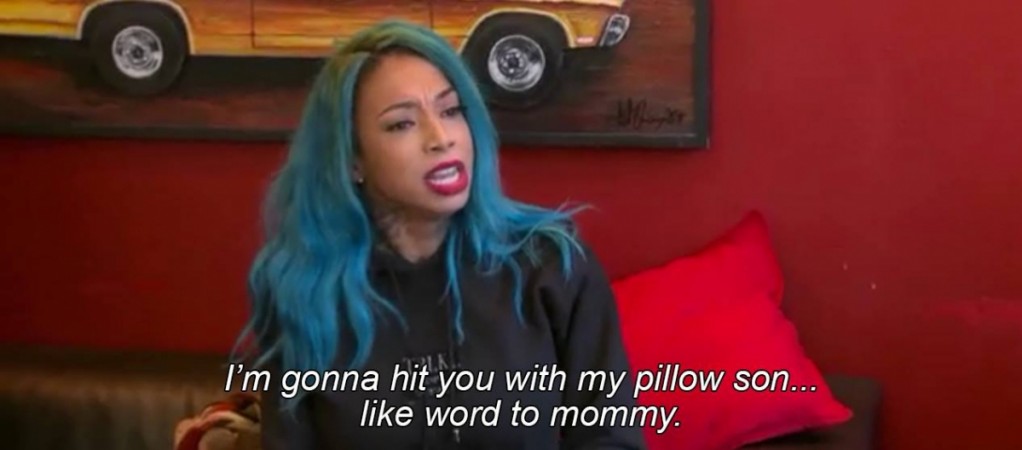 "Black Ink Crew" Season 4 has seen quite eventful for Sky, who has gone and gotten herself a new ass and she is going to show it off in the upcoming episode titled "The B--- Party." She had gone all the way to Miami to get the surgery done and her friends, including Dutchess and Donna, were there to lend support.
The infamous Miami trip has caused problems for Ceaser and Dutchess, and they are still working through that. In the previous episode we learned that the trip also caused fallout between Donna and Sky.
It is understood that Sky, who paid for all the expenses in Miami, asked Donna to pay her share and the young apprentice refused to do that. In her defence, Donna was the one who took care of Sky when she was recovering from the surgery.
Also Read: Who will be America's next drag superstar - Kim Chi, Naomi or Bob?
"I waited on you hand and foot like a servant while you were recovering from surgery," Donna said, "so after I clean you, feed you, change your diaper, wipe you're a— I'm supposed to pay for my room? Get the f--- outta here."
Their heated exchanges had soon turned violent in "Shots Fired," and the couch in the shop paid the price for Donna's wrath. There is expected to be a repeat of the events in the upcoming "The B--- Party" as well. Sky throws a reveal party at the shop to show off her new a--- and the same arguments will crop up. It will be up to Ceaser to step in and maintain peace between the two girls.
Don't forget to watch " titled "The B--- Party" which will be aired at 9 p.m. (EST) via Vh1 on Monday, May 16. Here is the official synopsis for Season 4 episode 7 of "Black Ink Crew:"
Sky hosts a reveal party at the shop; Ceaser stages a mediation to broker peace; Puma's mother-in-law goes on the warpath after the shooting.