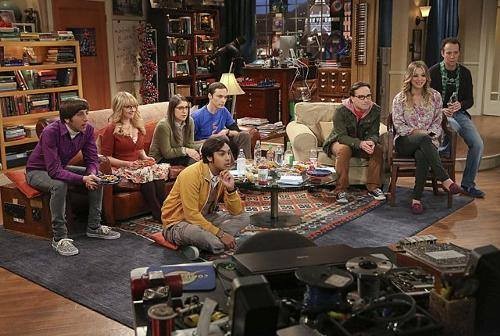 Season 10 episode 16 of The Big Bang Theory is titled The Allowance Evaporation and it will see a major fight break out between Amy and Sheldon. Could this be the end for Amy and Sheldon as a couple? Watch the episode live at 8 pm ET on CBS and it can also be streamed online via the CBS app.
Also read: Outlander Season 3 air date, spoilers: Here's all we know
The promo for the episode showcases a conversation between Bert and Amy and Sheldon where Bert brings up the topic of Amy and Sheldon's agreement to have sex just once a year. "Other than you two only having sex once a year, you're the perfect couple," he says and Amy is shocked. "You know about that?" she asks, and Bert replies that everyone at the university knows.
This could be what leads to the big Amy-Sheldon fight.
Elsewhere in the episode, viewers will see Raj's father refusing to support him financially after he uses his family's fortune injudiciously. Raj's father also complains about him being the only single person in the family.
The official synopsis for The Allowance Evaporation reads: "Sheldon and Amy have their first fight since moving in together and Koothrappali is shocked at the realities of financial independence when he stops receiving support from his father."
In other news, recent reports indicate that The Big Bang Theory is close to cementing a two-season deal as the show's lead stars — Jim Parsons, Johnny Galecki, Kaley Cuoco, Simon Helberg and Kunal Nayaar — are also close to finalising their contracts to return. Sources told The Hollywood Reporter that Parsons, Galecki and Cuoco are expected to continue raking in $1 million per episode.
The Big Bang Theory airs Thursdays at 8 pm ET on CBS.