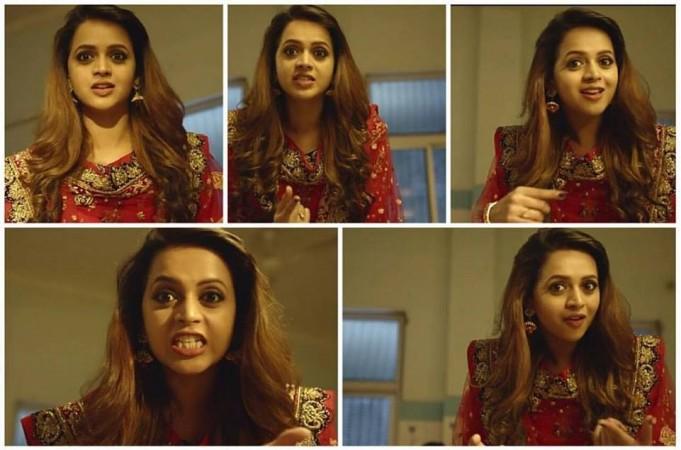 Looks like the Mollywood entertainment industry is going through a great phase with many good movies set to hit theatres in 2017. Be it the teasers, trailers or songs, the promotional videos of almost all the movies are entering the list of top trending videos on YouTube, even if it stars a bunch of newcomers.
Check Bhavana-Naveen's engagement photos
Following the path of Asif Ali's Avarude Raavukal teaser, the one-minute teaser video of his next film Adventures of Omanakuttan, featuring Bhavana, has now gone viral on social media. The video looks promising and has raised the expectations of the audience from the Rohith VS directorial.
Bhavana, who looks gorgeous in the teaser, is seen talking about her first meeting with Asif Ali's character, who has memory loss. Her attempts in helping him recover the memory loss is shown in the interesting video. Netizens have been lauding the actress' natural performance and the different narrative style used in the video. Many celebrities are also all praise for the teaser that has been viewed over 1.2 lakh times in less than 16 hours of hitting the cyber space. At the time of reporting, the teaser of Adventures of Omankuttan was trending at the second position on YouTube India.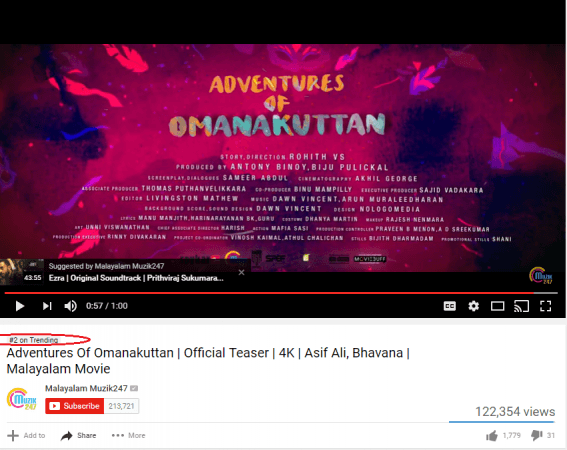 Neeraj Madhav
Very interesting teaser! Looking forward to watch this
Vivek Ranjit
Bhavana is Back!! ❤❤❤❤
Teaser of Rohith Vs' super fun entertainer starring Asif Ali, Bhavana, Aju Varghese, Saiju Govinda Kurup, Siddique, Srindaa & Mridul Nair.
Adventures Of Omanakuttan!
Salil Sankaran
Through the eyes of Omanakuttan, we see the super-cool hyper-energetic Pallavi.... Here is the first teaser of Adventures of Omanakuttan
Shanil Muhammed
all the best Rohith Vs and team
Adventures of Omankuttan marks the reunion of Honey Bee movie pair Asif and Bhavana, who are also awaiting the release of the comedy entertainer's sequel, Honey Bee 2 Celebrations, which is scheduled to hit screens on March 23. Antony Binoy and Biju Pulickal has co-produced the comedy entertainer, for which visuals have been captured by Akhil George. The movie also stars Siddique, Saiju Kurup, Aju Varghese, Kalabhavan Shajon, Rahul Madhav and Srinda Arhaan in significant roles.
Meanwhile, on March 9, Bhavana got engaged to Kannada producer Naveen in a private affair that was attended by close family and friends of the couple, including actresses Manju Warrier and Samyukta Varma. Though the wedding date hasn't been fixed, it is understood that the South Indian actress will enter wedlock later this year.
Watch the interesting teaser of Adventures of Omanakuttan here: