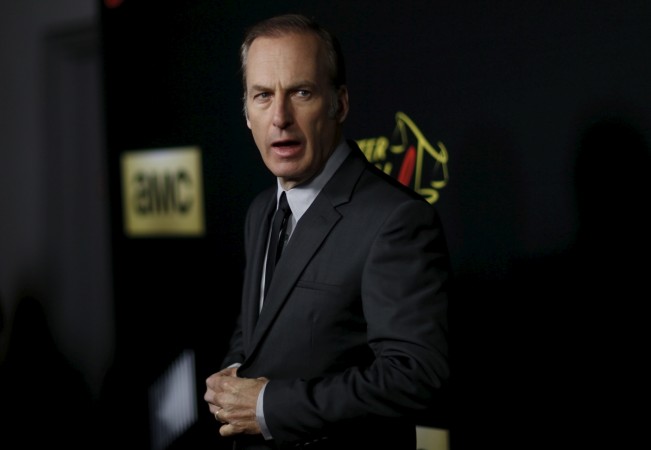 The latest episode of AMC's "Better Call Saul" will depict the end of the honeymoon period in Jimmy McGill (Bob Odenkirk) and Kim Wexler's (Rhea Seehorn) relationship. Kim will be in deep trouble when Season 2 episode 5, titled "Rebecca," airs.
Last week's episode, titled "Gloves Off," captured a particularly unhappy moment for Jimmy and his girlfriend Kim. Both protagonists were targeted by their employers. If Jim's misery resulted from a stern warning from his boss, Kim was hounded for her supposed involvement in her boyfriend's controversial advertisement.
At the end of the meeting, Chuck (Michael McKean) asked Howard Hamlin (Patrick Fabian): "What are you going to do?" Although his modus operandi wasn't revealed, the "Breaking Bad" spin-off series will continue to depict the problems at HMM.
[Spoiler Alert]
In the promo for the upcoming episode, an anxious Kim calls Jimmy. Since he is not Saul Goodman as yet, the morally corrupt lawyer still cares and attempts to help her. She refuses to accept his assistance and reminds him she can help herself. In contrast, she looks overwhelmed and is seen smoking a lot.
Meanwhile, Jimmy is frustrated with his job as well and ends up bribing a clerk. At this juncture, Kim, who has always been his confidante, becomes as patronising as his elder brother, Chuck. "I dare you to live one day without breaking the New Mexico law," she says in the promo.
Although Jimmy's motive for violating the law isn't clear yet, he could jeapordise his relationship with Kim in the latest episode.
A Variety article quoted show-creator Vince Gilligan as saying: "There's a reason fairy tales end with 'and they lived happily ever after,' and there's a reason you never see that part, because it's boring. It's what we want in our real lives, it's not what we want our dramas. Difficulties will continue."
Season 2 episode 5's synopsis (via TV Guide) reads:
Jimmy becomes frustrated with his restrictive work environment. Meanwhile, Kim pulls out all the stops to dig herself out of a seemingly bottomless hole at HHM.
"Better Call Saul" Season 2 episode 5 airs on Monday, March 14, at 10 p.m. on AMC. You can live-stream the episode here.