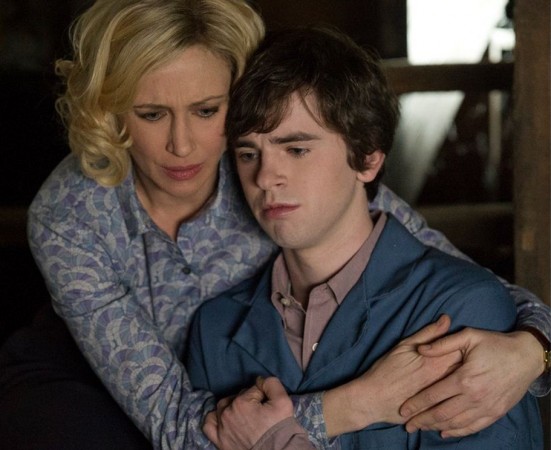 The Season 4 premiere of "Bates Motel" will focus on the tension between Norman (Freddie Highmore) and Norma (Vera Farmiga), and the problems that arise from having a psychotic killer as a son. In the premiere episode, Norma will seek Romero's help but it remains to be seen if he will indeed help her.
The latest instalment of A&E's psychological thriller will take off from where Season 3's finale ended. The fans of the show will remember that the previous season concluded with Norman's murder of Bradley (Nicola Peltz). He hallucinated that it was his mother, Norma, who killed the teenager. Norma's son will continue to experience this multiple personality disorder in Season 4 as well.
[Spoiler Alert]
In Season 4 Episode 1 of "Bates Motel," Norma will finally decide to admit her son in Pineview Medical Institution. Although the fee will be high, she will take the help of Romero. He will grudgingly agree to pay $20,000 a month, but before he can be of assistance, a problem will arise at home.
Norma will struggle while telling her son about the asylum. In the promo for the upcoming season, Norman becomes volatile. In the video clip, he says, "You have pushed me to a corner and I have no choice. You are dead to me." Will he harm her? In the same promo, Norma says, "It doesn't have to end this way."
Elsewhere in the episode, Dylan (Max Thieriot) waits for doctors to inform him of Emma's (Olivia Cooke) health. Fans speculate that she might get new lungs and begin a new chapter with Dylan. However, she might have to face some difficult situations later on in the season because Norman may not let her be.
According to IGN's review of Season 4, "When Season 4 picks up, Norma is frantic to get Norman the medical help he needs, and the show is going to toy with the idea that Norman's issues can be resolved."
Season 4 Episode 1's synopsis released on Hidden Remote reads:
Norma searches for Norman, who finds himself in unfamiliar surroundings; Dylan waits for news about Emma; Romero gets a surprising proposition.
"Bates Motel" Season 4 Episode 1 titled "A Danger to Himself and Others" airs on Monday, Mar. 7 at 9 p.m. on A&E. You can live-stream the episode here.
The show will premiere in the U.K. on April 5, 2016.