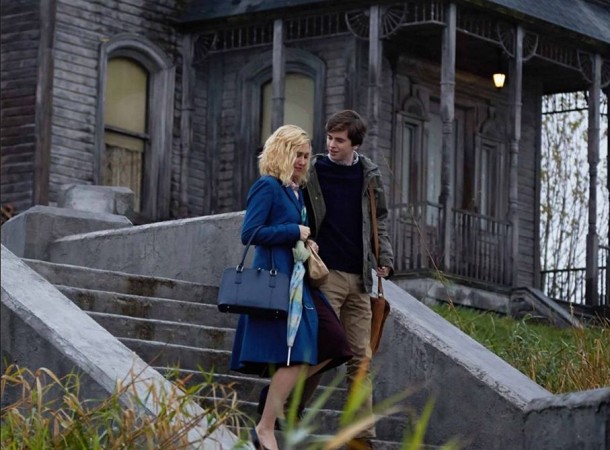 Shock, horror and a sense of happiness -- these emotions will be transported through the plot of "Bates Motel" Season 4 episode 3 titled "'Til Death Do You Part." The Bates, perhaps the most psychotic family on television, will find their lives changed.
Last week's episode titled "Goodnight, Mother" depicted the tension between Norma (Vera Farmiga) and her son, Norman (Freddie Highmore). The prequel to "Psycho" delved into Norman's visions, his transformation into the Mother character, and his paranoia about the murders, which he believed his mother committed.
Throughout episode 2, Norman followed his mother around the house and threatened to commit murder/suicide. Thankfully, Romero's (Nestor Carbonell) saintly presence stopped Norman from killing himself and his mother. He also agreed to go to Pineview mental institution after Norma pleaded him to get help.
How will Norman respond to his treatment? Does Norma feel safe? This will be explored in the upcoming episode.
[Spoiler Alert]
In the promo, Norman speaks to Dr. Edwards (Damon Gupton) and his obsession with his mother becomes clear. He says, "I never want her [Norma] to be upset she's the most wonderful person in the world." When asked why he's angry with his mother, Norman breaks down and says, "There's something wrong with my mother. She does things and she blames me but these things I just can't talk about."
While Norman suffers in psychiatric care, his mother ties the knot with Romero. For Norma, the relationship is defined by pragmatism. However, she is shocked when her husband tells her that he's going to move in with her. If Romero doesn't dig around the house, he may just remain unaware of the horrors that have unfolded between those four walls.
Season 4 episode 3's synopsis (via TV Guide) reads:
"Norma and Romero take a big step; Norman struggles to accept his new circumstances; and Dylan tries to rid himself of old business."
"Bates Motel" Season 4 episode 3 airs Monday, March 21 at 9 p.m. on A&E. You can live-stream the episode via A&E's website.