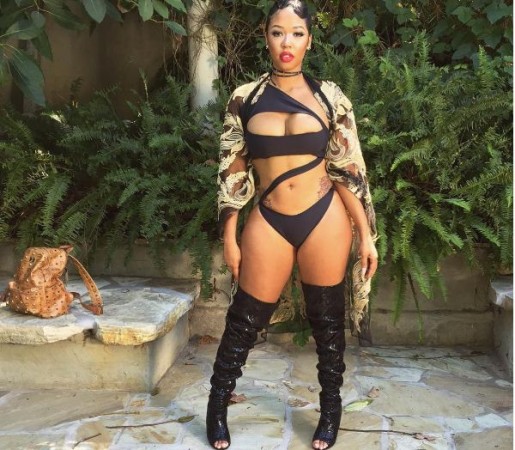 If there's one thing that's constant on "Basketball Wives: LA," it is the innumerable fights between cast members. And the latest instalment doesn't seem any different either. In Season 5 episode 9 of the VH1 reality TV show, Tami Roman gets personal with DJ Duffey.
Tami and this season's newest entrant, DJ Duffey have been on the opposite sides of the war between Shaunie O'Neal and Brandi Maxwell. If Tami's friendship is tight with Shaunie, then Duffey is close to Brandi. Their allegiances could be the reason why the two cast members fight in Season 5 episode 9.
The promo for the upcoming episode of the TV series captures Tami telling Duffey, "To quote Shaunie, thank you for your services." This statement offends Duffey and she fires back by saying, "You can't fire someone when you're not actually paying them."
This soon devolves into a physical altercation and Tami's daughter Jazz Anderson, who is also present at the scene, tries to keep them apart.
Although its not yet clear why Tami and Duffey come to blows in Season 5 episode 9, Duffey looks scared as Shaunie's best friend seems livid.
Earlier, the two women engaged in a social media feud after Jazz posted a snapchat claiming that none of the cast members are in fact dating basketball players.
In a Snapchat video, Jazz said, "I'm gonna come on there in a couple years and be like Hello my name is Jazz Anderson. I date the water boy for the Cavaliers."
Duffey, who isn't dating a basketball player, took umbrage at Jazz's video clip. She fought back and that's when Tami got involved. Although Tami said her daughter's social media post wasn't directed at Duffey, the DJ didn't let it go.
"But your 46 years old trying to fight with a 27 year old for a check. Girl bye. You need a storyline more than me! I'm a DJ first! Never forget that. And please stop exploiting your daughter for ratings... It's not cute.. Back to getting this Shmoney..Without having to argue with senior citizens," she wrote on Instagram.
While Duffey fights her battles in the upcoming instalment, so does her cast mate, Angel Love. The promo indicates that the fight between Jackie Christie and the nurse is far from over and everyone's scared to confront Jackie.
What do you think will happen? Let us know in the comment section.
"Basketball Wives: LA" Season 5 episode 9 airs at 8 p.m. EST on Sunday, Sep. 11 on VH1. You can stream the episode via VH1 app.