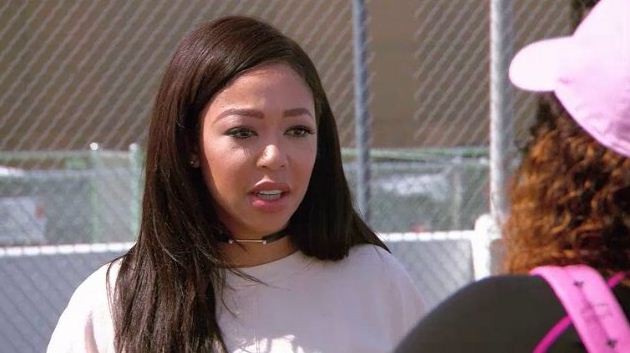 Tami Roman has been experiencing extreme mood swings and she finally finds out why. In Basketball Wives: LA's season 5 finale, episode 15, the reality TV star takes a pregnancy test.
[Spoiler Alert]
In last week's episode, Tami finally revealed that she could be pregnant. During her conversation with Shaunie O'Neal, Tami said she needed support while taking the test and although Shaunie agreed, the reality star never got around to finding out if she is indeed pregnant.
Although it's still unclear if Tami is pregnant, the synopsis (via TV Guide) states that the result could change everything for the VH1 star.
In the promo, Tami is seen smoking and she looks extremely annoyed. Perhaps it would suffice it to say that the result is negative. And it seems as if Tami takes out this frustration on her co-star, DJ Duffey.
The video clip for Basketball Wives: LA season 5 episode 15 captures Tami chasing down Duffey. As her cast mates look on helplessly, the show's crew rush in to stop Tami from physically assaulting Duffey.
Evidently, the cast members' Portugal trip exposes the deep seated anger between the co-stars. But just when it looks like they can't come together for Jackie, her husband Doug surprises her and brings them all together.
In the season 5 finale, Doug and Jackie get married (again) and renew their vows. Jackie, dressed in a black gown and a tiara, looks immensely happy and so does Angel Love, who starts to cry tears of happiness. But it remains to be seen if Tami and Duffey can put aside their differences and support Jackie for a few hours.
Basketball Wives" LA season 5 episode 15 airs at 8 pm EST on Sunday, October 16, on VH1. You can stream the episode via VH1's app.