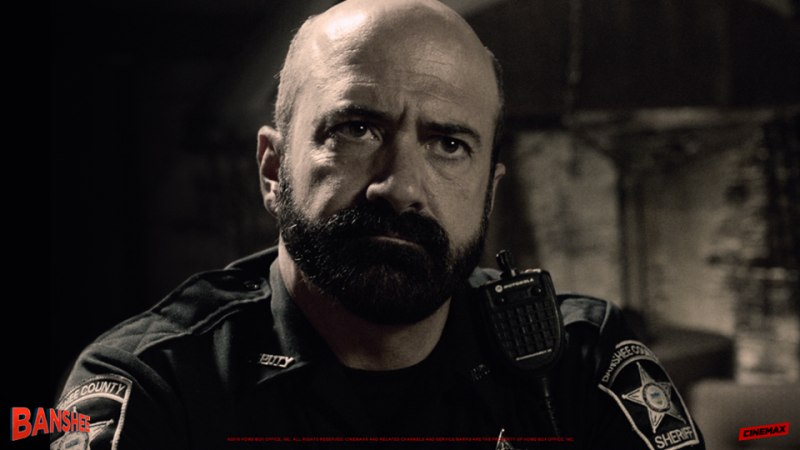 In the upcoming episode titled "Only One Way a Dog Fight Ends" of Cinemax's action-drama series "Banshee," it seems that the suspect behind Rebecca's murder will finally be revealed, while Lucas will be shown to be hiding some secrets.
According to Ecumenical News, Dawson will suspect Lucas of hiding something from her when she will find Lucas checking for his car keys every time he goes to their room in the hotel where both of them are staying together.
In the promo of the episode, a female deputy can be seen telling Kai Proctor that she had seen Carrie. Calvin tells Proctor that his brother, Kurt, no longer serves the mayor.
The trailer also hints that more murders might take place in the upcoming episode as Proctor can be seen putting a flower on someone's grave. There is a significant possibility that this latest death might be done by Job, who had also killed a cop previously.
Meanwhile, Spoiler TV has reported that the prime suspects behind Rebecca's killer are Lucas Hood, Sugar Bates, Clay Burton, Declan Bode, Aaron Boedicker, Carrie Hopewell, Kai Proctor, Calvin Bunker, Lilith Bode and an unknown mysterious Brotherhood member.
Whether the killer of Rebecca will be captured in the upcoming episode or not will be seen once the episode airs.
Meanwhile, Ivana Miličević, who portrays the character of Anastasia/Carrie in the series, hinted at the finale and what fans can expect from the last episode.
In an interview with Collider, Miličević said, "People feel so passionately about our show. Thinking back to the death threats that the writers got when Siobhan was killed, there will probably be a spectrum of opinions and feelings. And we will be there on Twitter with everyone, joining in on the fun."
Hopefully, fans will get a satisfying ending with the show's last episode, scheduled to air on May 20, 2016.