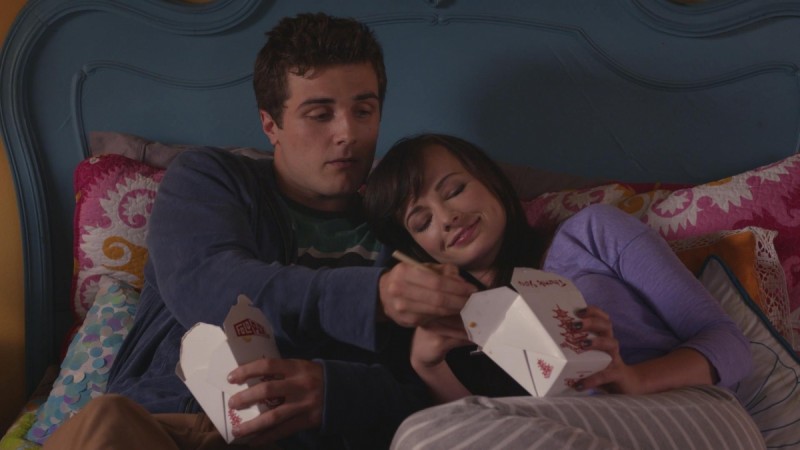 Jenna's (Ashley Rickards) bizarre and eccentric life experiences continue in the latest installment of "Awkward." In Season 5 episode 19, titled "Girls gone Viral," Jenna tries to make up with Matty (Beau Mirchoff) but ultimately has to choose between her job and friendship.
Jenna's job at IdeaBin has landed her in many difficult situations. Her latest casualty was Matty, who took offence to her article, which read, "Your Needy High School boyfriend is a LOSER. Dump him already." In all fairness, the article wasn't about him having zero cool quotient, but Jenna did have to face the consequences of spilling details of her personal life on the internet.
In episode 19, however, she tries her best to make amends with Matty. This friendship is admittedly one of the most important relationships in her life. But when Jenna picks up the courage to go to his home, he slams the door on her face saying, "I'm done with you."
This reaction puts her in a quandary and she wonders if she should take the article down. However, that won't be very easy. In all probability, Lizzie won't allow her to do that.
Jenna, worried about Matty, even talks to Jake about this. He informs her that her ex is still angry and implies that there is hope if she takes the article down. But it remains to be seen if she can successfully delete it from the website.
Meanwhile, Jake becomes a hero of sorts at IdeaBin. Jenna's colleague Ovilia has a chat with him and decides to write a story on people who have dropped out of college. She places Jake next to luminaries such as Steve Jobs and others. Perhaps Jake can still look forward to the future even after working at the country club.
"Awkward" Season 5 episode 19 is aired at 10 p.m. EST on Tuesday, April 26, on MTV. You can live-stream the episode via MTV's website.