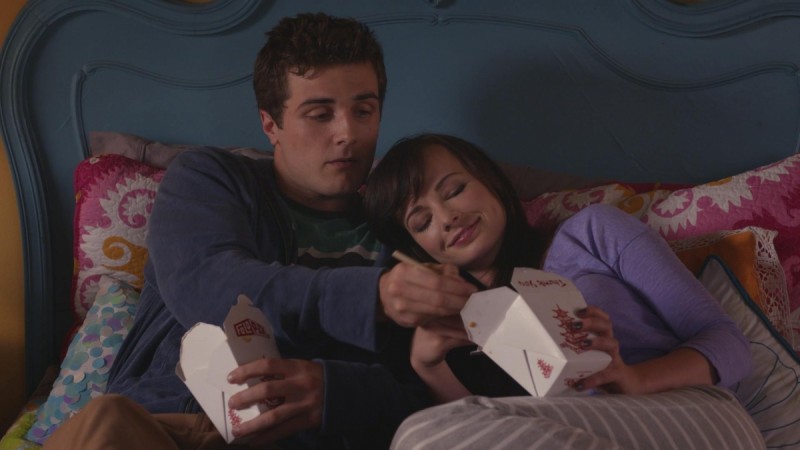 The final season of "Awkward" is returning with new episodes Tuesday, March 14, 2016. The mid-season premiere episode, titled "I'm the Kind of Girl Who Found Her Voice in College," will take place after a time jump, and Jenna (Ashley Rickards) is back from college when fans will meet her.
As fans will remember, Jenna and Matty (Beau Mirchoff) had decided to date long distance while they were in college, and none of the promos for the upcoming episodes reveal the outcome of that choice. In a particular scene, Matty holds and cajoles a baby, most possible Jenna's little sister. If that is the case, the two of them must still be together.
However, certain other scenes show Jenna has clearly matured and may have outgrown her friends from Palos Hills. College really seems to have been a good influence for her, and she also appears to have earned herself an internship while on break from college. Does Matty have any significant role in her new life?
Also Read: Chi Chi DeVayne, Acid Betty bump heads in 'B---h Perfect'
In the promo, Tamara (Jillian Rose Reed) asks her: "What did happen with Matty? I am dying to know. Everyone is dying to know." Jenna will reveal the answer to this question on "I'm the Kind of Girl Who Found Her Voice in College," but it sure looks like she managed to grab attention from ladies.
In the promo, Jenna and a woman are sitting in car and laughing when the latter leans in to kiss her. However, Jenna pulls back and the woman says: "Woops. Totally misread the vibe." This probably is a flashback scene from Jenna's college days, but is good to know she is not kissing anyone, including Matty, in the promo, giving fans the chance to hope they may still be together.
Watch Season 5 episode 13 of "Awkward" at 10 p.m. (EST) Tuesday, March 15. You can also live-stream "I'm the Kind of Girl Who Found Her Voice in College" via MTV.