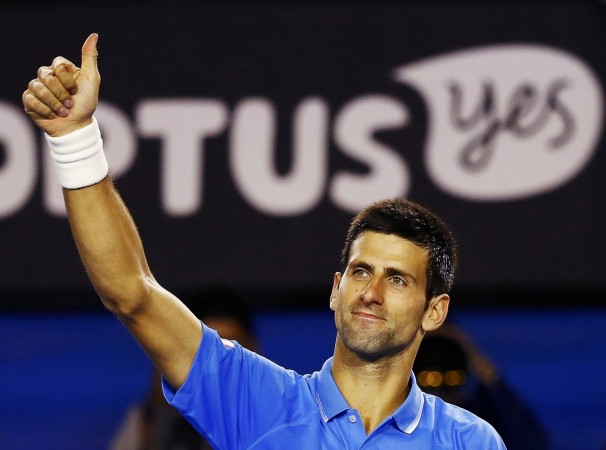 Top seed of men's competition in the Australian Open, Novak Djokovic takes on Milos Raonic in the quarter finals at the Rod Laver Arena during the night session.
Djokovic justified his seed as he has not dropped a single set in the competition, though the score line in some of his matches suggest it to be a hard fought win.
While Gilles Müller posed some challenge in the fourth round, where the score read 6-4, 7-5 and 7-5, eighth seeded Raonic is likely to come out all guns blazing against the Serbian star.
Raonic, who is known for his serve could make life difficult for Djokovic. But having played a similar big server in the last round, Muller, Djokovic knows what to expect from Raonic, also considering they are good friends.
''Well, obviously it helps in terms of having this commitment and focus for the return. But it's just that he's (Raonic) right-handed and Muller is left. I'm going to have to adjust to that,'' said Djokovic.
'' But I played Milos finals of Bercy last time. I know what to expect. We practice a lot. We live in the same place. We're good friends. He's very confident. He's been playing some great tennis in last 15 months.''
Djokovic knows he cannot take it easy against the Canadian.
'' He deserves to be where he is now, top 10, coming closer to top 5 of the world. Tough one. Definitely a tough one. I need to be at my best, top of my game, in order to win that match.''
Raonic has been playing some good tennis in the competition and was put to the sword by Feliciano López in his fourth round encounter, where he was stretched to five sets.
''I thought it was okay. I'm happy with sort of the attitude that got me through. I stayed calm even though things weren't always panning out how I would have liked,'' said Raonic.
'' I came up with the right play on my first match point. He came up with a great shot. Missed a lot of breakpoint opportunities, but overall I can't complain too much. I fought my way through.''
Considering Djokovic is a big player, Raonic loves to take his chances.
''I play for the opportunity to have a shot against the big guys at the big slams.''
The Canadian might not have won a single grand slam, but has been playing some consistent tennis of late.
With top guns such as Nadal and Federer being ousted, Raonic's chances of winning his first grand slam spike up in case he manages to defeat Djokovic.
Where to Watch Live
Djokovic vs Raonic is scheduled for a 7 pm local time (1.30 pm IST, 8 am GMT, 3 am ET) start.
The Australian Open quarter-final match will be shown live on TV on Sony Six, while viewers in India can also catch all the action via live streaming on livsports.in.
Audience across the world can also watch the fourth round live on the Australian Open website's live option.