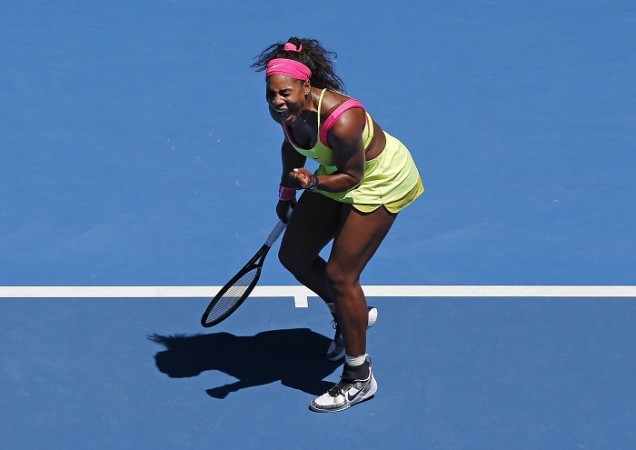 The eighth day of the Australian Open would witness two big fourth-round clashes in the women's singles competition.
Victoria Azarenka would play Dominika Cibulkova, which would then be followed by Serena Williams and Garbine Muguruza at the Rod Laver Arena.
Victoria Azarenka has been in top form in the year's first grand slam as she has not dropped a single set in the competition. She has defeated two seeded players in the competition, en route to facing another seeded player, Dominika Cibulkova seeded 11th.
She won her matches against the 8th seed Caroline Wozniacki and the 25th seed Zahlavova Strycova in the second and third rounds respectively.
''I take it as a progress. You know, it's just another match, another opportunity to improve. You know, I have a different opponent, so it's kind of difficult to compare the level or the quality because it's different styles,'' said Caroline Wozniacki.
''But I'm just happy that I managed to go through my matches. There are things that obviously I want to improve. But, you know, it's a progress. It's one step closer. So I'm happy I have another opportunity to play Monday.''
Her opponent for today, Dominika Cibulkova has also been in an equally top form prior to the fourth round.
But, Cibulkova needs to step up her game, if she is to deliver against the in-form player, which is not going to be an easy task, primarily because of the way Azarenka has been striking the ball on the court, clean like a whistle.
Another favourite, Serena Williams, the top seed will play against Garbine Muguruza. The American player has looked good with comfortable victories barring her third round clash against Ukrainian Svitolina, where the game was stretched to three sets.
''I'm not sure. I need to figure that out (slow start). Well, my next match I'm just going to have a longer warmup, more intense warmup. But as long as I was able to come through today, I can always have an opportunity for tomorrow. ''
These two players have crossed path twice in a grand slam tournament, where the records read 1 win each. Williams lost against the player in 2014 French Open, while won her match in the 2013 Australian Open.
When reporters asked as to what she remembers about her match against Muguruza at the French Open, she said, ''Losing. But it was a good loss. As angry as I was, it was the best loss I had the whole last year. Had a lot of them. But that one in particular made me realize what I needed to work on.''
''It opened my eyes towards a lot of things. I was like, Oh, my gosh, if I don't change, then I'm going to be forever in the same position. It actually ended up helping me a lot.''
Azarenka's fourth round encounter against Cibulkova will be shown live on Sony Six and Sony Six HD has been scheduled for 11am local time (5:30am IST, 12am GMT, 7pm ET) start, which would be followed by Serena Williams vs Garbine Muguruza match.
Viewers in India can also catch all the match action live on livsports.in. Audience across the world can also watch Nadal live on the Australian Open website's live option.