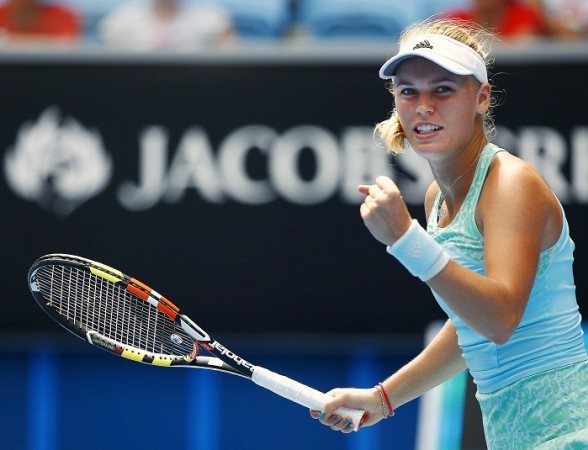 Caroline Wozniacki would not have wanted to face Victoria Azarenka in the second round of the Australian Open 2015, but that is the reality that the Dane faces come Thursday evening at the Margaret Court Arena in Melbourne.
Owing to injuries, Azarenka tumbled down the rankings last season, and thus coming in unseeded at the Australian Open, a Grand Slam she has won twice before.
It is indeed strange that the player who has won the Australian Open (in 2012 and 2013) will go into the match as the underdog against someone who is yet to pick up a single Grand Slam crown.
Having said that, though, Wozniacki, seeded eight, will go into this match confident of coming away with a win, knowing full well that Azarenka is still far from being her sharpest self on the court.
"It's going to be tough," admitted Wozniacki of her second round match with Azarenka. "She's won here before. Not the easiest on paper.
"But at the same time I'm just going to focus on myself, my own game. Honestly, whether you have to beat her in the second round or fourth round, whatever, doesn't matter if you want to win the tournament."
While Wozniacki might want to convince herself by saying that, there is a difference when you meet a big game player in the later rounds than in the first couple of rounds. You are much better attuned to your surroundings heading into the second week of a Grand Slam and those concentration levels and hitting powers go up a level or two the longer you stay on.
Azarenka, currently ranked 44, though, faces the same challenge, and the Belarusian will know if she can top Wozniacki, it will act as a huge confidence booster, after an injury-ridden 2014.
"It's just going to be a tough match for me," said Azarenka. "Being an unseeded player, it's not a surprise that I have a tough draw or tough opponents in the early round. I just need to go through that.
"I accept the challenges. She had some -- she was showing some great tennis in the end of last year. I know she's very dangerous. We always had some of tough matches. I would like to focus on myself and what I can do to build my game, to prepare as best as I can, and just compete.
"That's my key word for this tournament -- compete."
Where to Watch Live
The second round match is scheduled for a 7 pm local time (1.30 pm IST, 8 am GMT, 3 am ET) start with live coverage in India on Sony Six. The match can also be watched via live streaming online on Livsports.in.
International viewers can live stream the action on the live video option on the Australian Open website.