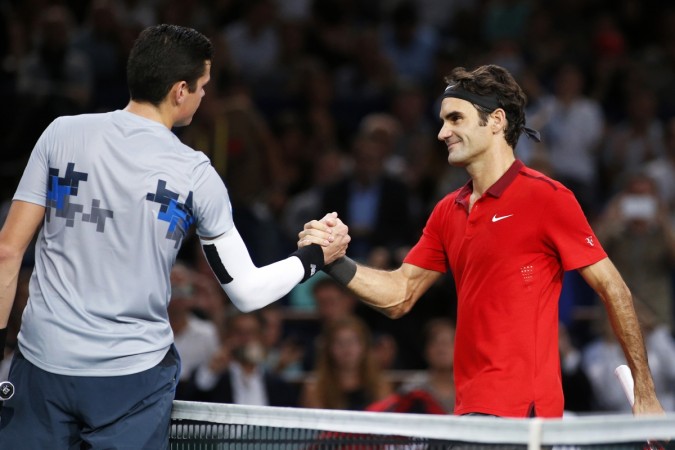 Roger Federer will face Milos Raonic of Canada on Day 1 of the ATP World Tour Finals at the O2 Arena in London on Sunday.
Federer, Raonic, Andy Murray and Kei Nishikori have all been drawn in Group B of the end-season extravaganza, while the likes of Novak Djokovic, Stan Wawrinka, Tomas Berdych and Marin Cilic are in Group A, and will kick off proceedings on Monday.
Six-time Tour Finals champion Federer enters the competition this year, with the aim of rewriting yet another record in tennis history. If the Swiss maestro wins the eight-man showdown, he can recapture the world no.1 title from Novak Djokovic and finish the season on top of the ATP Rankings, tying Pete Sampras' all-time record.
The 33-year-old had a good season this time, compared to the last couple of years or so. He has been playing some good tennis of late and, as a result, his ranking rose from last year's fourth to second. The 17-time Grand Slam champion had made it to the finals of Wimbledon this year and also posted semifinal appearances in both Australian and US Open.
Federer, who is no stranger to the Tour Finals, stressed on the importance of starting the tournament with a win.
"You definitely don't want to lose the first one, as the pressure increases. You go out with the mentality of being in a knock-out system. I have never felt good in losing but still be in the tournament. It feels very odd, because in tennis you lose you leave. You go round-by-round clearly, but the first one is crucial," the Swiss pointed out.
Federer had lost to Raonic 7-6(5), 7-5 in the 2014 Paris Masters quarterfinals just days ago but is confident he can turn around the result this time.
"You can catch guys in spells. You can play one another very often. I don't feel badly. I lost because he played well. So you just need to react to it. It is more up to me, than up to him."
Raonic, on the other hand, has had a breakthrough year of sorts. The Canadian made it to his first Grand Slam semifinal at Wimbledon 2014 and also achieved a career high ranking of sixth in the process.
The 23-year-old, who became first Canadian to feature in the singles event of the Tour Finals, is now hoping to hit top form.
"Qualifying for here signifies mostly a successful and year and it is now about trying to end the on an exclamation mark. For me the main focus, which is very different from any other week, is finding my best tennis right from the first match," the youngster stated.
Raonic also played down the significance of his recent win over Federer in Paris, pointing out it was his first victory over the legend in seven attempts.
"It's a brand new match. The last three times we have played, we have both played a lot of matches coming into the event. This time it is from the get-go. We have to find our form. Roger has done it many times. I am going to have to find a way to find my game quickly."
Where to Watch Live
Federer vs Raonic will not start before 1.30am IST (7pm GMT), with Ten Sports and Ten HD providing live coverage in India, while the match can also be watched via live streaming online on Ten Sports Live.
Viewers in the UK can watch the match live on Sky Sports 3 and Sky Sports 3 HD, while they can also catch the action live on Sky Go, US viewers can watch the game live on Tennis Channel (subscription required) on TV or online on Tennis Channel.