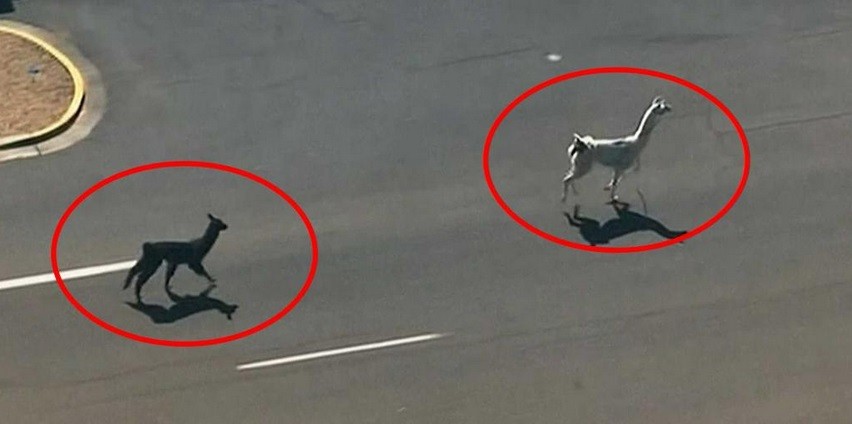 The video of two llamas on the loose in the streets of Sun City, Arizona, set the internet into a frenzy on Thursday.
People from across the world were glued to their television sets and social media for live updates of the two llamas, one larger white and a smaller black, who escaped from a retirement community's show-and-tell presentation in the city. Authorities were unable to capture them, who proved to be more quick and clever than the rescuers chasing them, much to the amusement of millions of onlookers.
After learning that a chase was going on to capture the llamas, local television station ABC15 used its helicopter to shoot an Ariel live chase video.
According to social science software Spreadfast, cited by BBC Trending, there were about 3,084 tweets per minute related to the Llama chase on Thursday, with terms such as #llamawatch, #teamllama, Sun City and White Llama trending in the micro-blogging site.
Here are some of the most interesting tweets:
"The white llama is a very smart runner. Knows the game inside and out and can make quick decisions. Any farm is lucky to have this guy," -- @FanSince09
"A Direct result of Obama's Llamnesty policty." – Jon Favreau
"I hope people don't judge all llamas for this, or rush to blame it on Isllamaism," --@MazMHussain
This is like Thelma and Louise if Thelma got lassoed and put inside a truck and Louise was still running free and also was a llama.

— Rebecca Traister (@rtraister) February 26, 2015
humans sitting in offices watching llamas run around free in the sunshine. somehow i feel like we lost — Lucie Zhang (@that_lucie_girl) February 26, 2015
I am watching a police llama chase live on the inter net. What a time to be alive. http://t.co/0YAOWvEIho pic.twitter.com/Z5TieszhqS

— Owen Williams (@ow) February 26, 2015
The two llamas were eventually captured and are now in the care of their owners, ABC15 reported. Watch the video of the chase below: