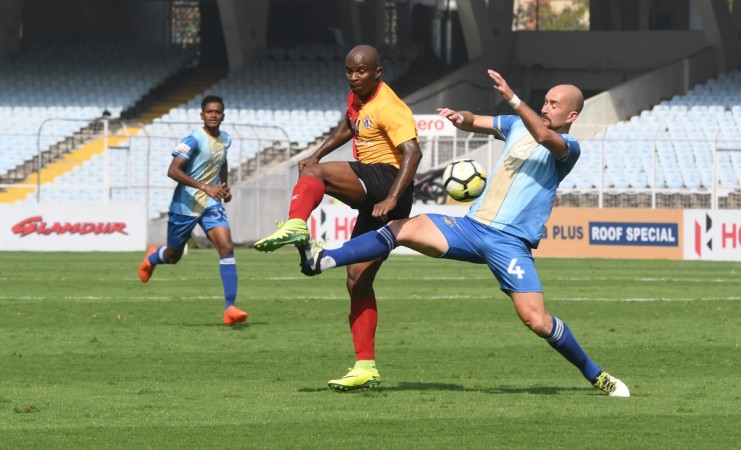 Kolkata football giants East Bengal gave a memorable performance in the I-League 2017-18 on Saturday, February 24 to record one of their biggest wins in Indian football. The Red and Golds won 7-1 against Chennai City FC at the Salt Lake Stadium.
Former FC Goa forward Dudu Omagbemi, who has quite a few fan following in Kolkata, remained the undoubted star of the match as he netted a total of four times to hand East Bengal their biggest win this season. Watch all the goals and highlights here.
East Bengal, who are desperately trying to win their first-ever I-League title, are now level on 29 points with the third-placed Minerva Punjab, who are one of the frontrunners to win the title this season.
Manipur football side Neroca, however, remain in the top of the I-League points table with a total of 31 points earned.
East Bengal completely destroyed Chennai City and now has same point as Minerva but having played 1 Game more than them !

Must Say, that we have not seen any team play such fluid Football in either I-League or ISL, the credit must go to the tactician, Khalid Guardiola Jamil ! pic.twitter.com/EjNIonsq1i

— Indian Football Team-For World Cup (@IFTWC) February 24, 2018
East Bengal and Minerva Punjab have two more games to go in the I-League this season whereas Neroca have just one match to go.
East Bengal coach Khalid Jamil is looking at a completely new attacking style of football in their remaining I-League games, The Telegraph reported.
"We are aiming to make a comeback... Katsumi and myself are two senior members of this team and we have to do well for our supporters," Syrian midfielder Mahmoud Al Amnah, a key member of the East Bengal team, told the newspaper ahead of the match.
"If we win the I-League, we can bring the smiles back on their faces," he added.