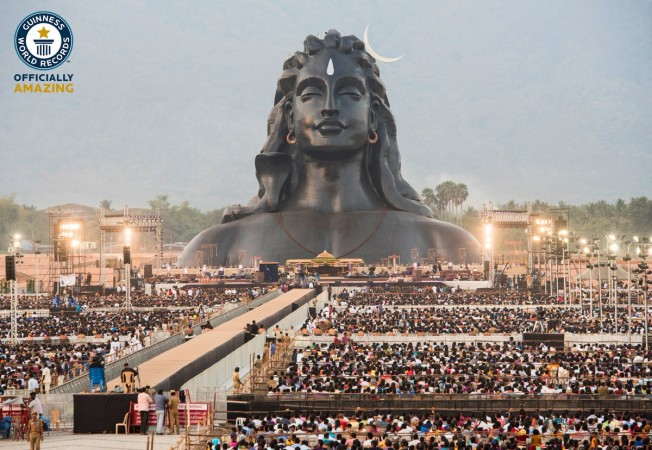 The Adiyogi statue of Lord Shiva in the Coimbatore district of Tamil Nadu has been determined to be the largest bust or sculpture in the world. And the ruling is official because it comes from Guinness World Records, the around-the-world authority when it comes to such things!
According to Guinness World Records -- established by the McWhirter brothers as Guinness Book of World Records in 1955 -- has on its official website observed about the statue while conferring it with the honour: "The largest bust (sculpture) is 34.24 m (112 ft 4.0 in) high, 24.99 m (81 ft 11.8 in) wide and 44.90 m (147 ft 3.7 in) long, achieved by ISHA Foundation (India), in Tamil Nadu, India, as verified on 11 March 2017."
The statue was unveiled by Prime Minister Narendra Modi on February 24 this year as part of the Maha Shivaratri celebrations organised by the Isha Foundation, which has been founded by Sadhguru Jaggi Vasudev. The foundation had even then claimed it would be the largest in the world, saying in a statement: "This iconic face symbolises liberation, representing the 112 ways in which one can attain the ultimate through the science of yoga."
The statue depicts Shiva as Adiyogi, or the ancient practitioner of yoga, because it is believed to have originated from him. The Isha Foundation had explained in its statement: "For the first time in the history of humanity, Adiyogi introduced the idea that the simple laws of nature are not permanent restrictions. If one is willing to strive, one can go beyond all limitations and attain liberation, moving humanity from assumed stagnation to conscious evolution."
The statue, however, has had its fair share of controversies as well. Local tribes had claimed before the unveiling of the statue that parts of its works, like acquiring or working on certain pieces of land, had been done without permission.
R Kalaiarasu — who represented the tribals — claimed that although the Isha Foundation says it is a non-religious organisation, the permission given for the Adiyogi statue by the Coimbatore district collectorate was on religious grounds.
Here is how Guinness World Records chose to depict the statue and its siginificance in a video: