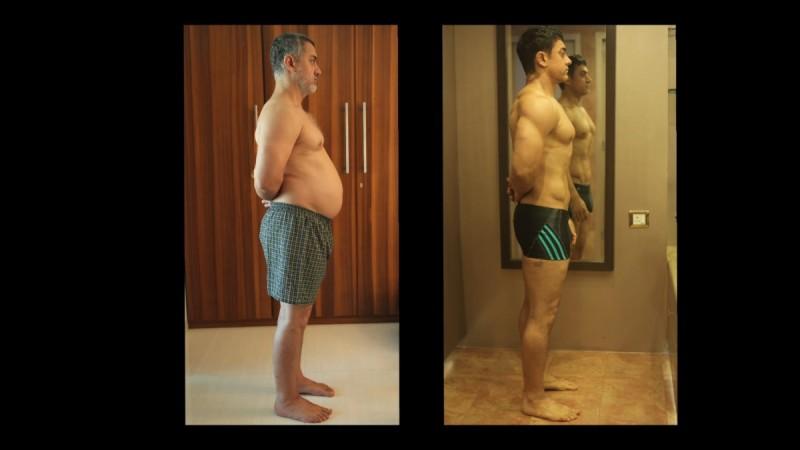 Aamir Khan underwent one of the greatest body transformations in the history of Bollywood for the movie Dangal. The makers of the film have now shared a behind-the-scene video in which the pain and troubles that the actor went through is seen.
As 80 percent of Dangal required Aamir to be in the form of older Mahaveer Singh Phogat, the actor decided to gain weight and first finish shooting for the older version of the wrestler.
Aamir had gained excessive weight and ended up being 97 kilos with 38 percent body fat for the film. However, the real challenge for the actor was to shed the extra weight and lose 25 kilos in 25 weeks.
The video first shows Aamir facing breathing and other issues due to heavy weight that he gained for the film. Then it shows the hard work that the Dangal actor did at the gym. Aamir had a rigorous workout at the gym and it was extremely hard for the actor initially due to the extra weight.
The initial phase was very strenuous, but with a lot of hard work and dedication, the Dangal actor made it to the desired look.
He followed a rigorous fitness regime along with long hours of workout to get into shape in less than 6 months, weighing 70 kgs with 9% body fat. There were moments when Aamir thought he would not be able to continue the workout regime, but the actor bounced back with his dedication and completed the task with perfection.
Directed by Nitesh Tiwari, Dangal is based on the life of veteran wrestler Mahaveer Singh Phogat and his daughters, who also became successful wrestlers. The film is slated to be released on December 23. Check the video of Aamir's impressive transformation.