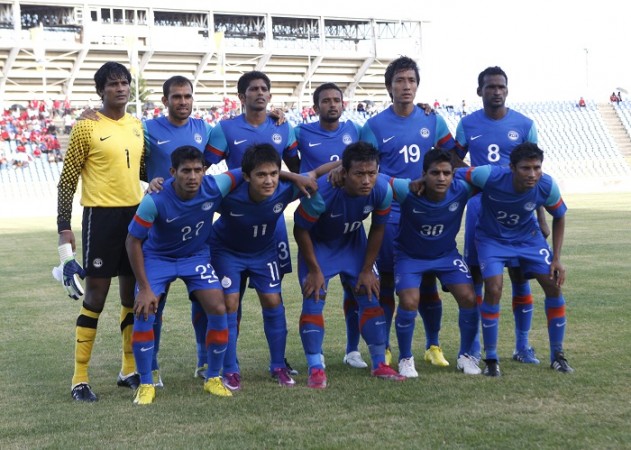 India play hosts to Nepal in the first leg of the 2018 World Cup pre-qualifier at the Indira Gandhi Athletic Stadium, Guwahati on Thursday.
In the 2014 World Cup qualifiers, India were knocked out of the second round, following a 5-2 (aggregate) defeat to the United Arab Emirates.
However, the Blue Tigers, who have re-appointed Stephen Constantine as their head coach, will be hoping to do better this time around though they are further below in the world ranking than they were four years ago.
Since India and Nepal are amongst the 12 lowest ranked team in Asia, they will need to play a two-legged pre-qualifier from where six teams will progress to the second round of the qualifiers, which will have eight groups with five teams each.
This time the 2018 World Cup qualifiers will also determine which teams will qualify for the 2019 Asian Cup.
Although India have not been in the best of forms of late, many are expecting the Blue Tigers to easily beat Nepal, whom they beat 2-0 in Siliguri in November 2013.
But India boss Constantine despite admitting that the Blues Tigers will be looking to win on Wednesday, insists that his side will not be taking Nepal for granted.
"I don't know why many people are saying that we are clear favourites, I don't see that. I think it's a very even match. Obviously we want us to win. We have prepared as good as we could for this game. The boys have worked their socks off," said the Englishman, according to Goal.
"I think Nepal are a very organized team. They would fight, that's for sure. When a team is prepared to fight and give everything, it doesn't matter how good you are, it becomes a challenge. But we are also ready to fight and I think both the games will be very difficult."
Nevertheless, the 52-year-old insists that India are not under any pressure ahead of this fixture.
"I look forward to every game. When you are playing for the national team, there are always high expectations. I don't go into any game expecting to lose regardless of the opponent. I believe that if the boys do what they are asked to do and work hard, they will get the result. This is the same as any other game," he told the reporters.
The Gorkhalis were scheduled to hold a two-day training camp in Kolkata in February, but that was cancelled due to an accident at Kathmandu airport.
However, coach Jack Stefanowski insists that the cancellation of the training camp did not hamper their preparation for their first 2018 World Cup qualifying game against India.
"Our preparation has been going as planned. The Kolkata chapter didn't hamper our preparations," the Poland born coach told Goal.
Although Nepal have not been in the best of forms, recording a 3-0 defeat in their last fixture against Philippines, Stefanowski feels that his side are "improving and progressing."
"We are improving and progressing. We have a plan in mind and a vision. So, each time that we play from where we started."
On being asked whether they will be looking to beat India on Wednesday, Stefanowski replied: "Of course, we want to win but we have to make sure that we keep making the progress."
Where to Watch Live
The game is scheduled for a 7pm IST (7.15pm NPT) start, with live coverage on DD NE and Newstime Assam India. The deferred telecast of the match will be shown on DD Sports at 10pm on 12 March.