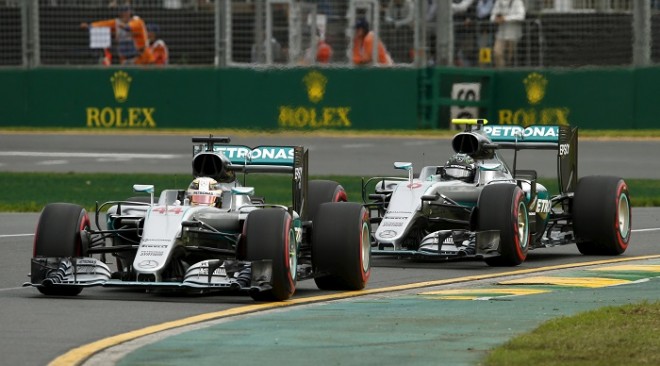 Mercedes' Lewis Hamilton will start the Australian Grand Prix, which takes shape Sunday, on pole position after an impressive performance in the qualifying session, Saturday. Hamilton's team mate Nico Rosberg will start behind Hamilton as he finished second in qualifying. Hamilton's timing read 1m 23.837s while Rosberg, with 1m 24.197s, will be keen to start the F1 season with a win at Albert Park, Sunday.
Though the position might have been determined via a new qualifying elimination format, it only created a whole range of confusion for all the 11 teams in the F1.
Hamilton, who is one of the favourites to win the Australian Grand Prix, won his 50th pole in his F1 career. With it, he becomes the third person in the history of F1 to achieve such a feat. The other two drivers are Michael Schumacher and Ayrton Senna. With the way Hamilton drove his Mercedes car during the qualifying, it will be tough to beat him, as he will also be keen to take maximum points from Australia, and take lead from the first F1 race itself.
Mercedes should be pleased with the performance of the duo – Hamilton and Rosberg --, but they are aware that Ferrari, who have improved their car from last season, will give them a run for their money come Sunday.
Ferrari drivers Sebastian Vettel and Kimi Raikkonen were relatively fast as they were third and fourth fastest in qualifying respectively, with a timing of 1m 24.675s and 1m 25.033s. Ferrari looked good in the free practice sessions as well, which will give Ferrari drivers the confidence to challenge Hamilton and Rosberg.
Vettel hopes for a good race tomorrow at Albert Park.
"Surely we're not on the front row but we still have high hopes for the race and it's going to be a long year, we know this car has a lot of potential, so I think as a starting out third and fourth, locking out the second row, is a good achievement. The team's been pushing very hard and as I said we have a long year ahead of us," F1 official website quoted Vettel as saying.
All eyes will mostly be on Mercedes and Ferrari drivers, but one cannot turn a blind eye on teams such as Toro Rosso and Red Bull. Toro Rosso's duo – Max Verstappen and Carlos Sainz – will start the race in fifth and seventh place respectively. Red Bull's Daniel Ricciardio will start in eight place.
Force India, who finished fifth last season, have major ambitions to come up with an even better record in 2016. Their drivers Sergio Perez and Nico Hulkenberg will start the race in the ninth and 10th place. Romain Grosjean and Esteban Gutierrez, who are driving for 2016 F1 debutant team, Haas, will start in the back end of the grid, in the 19th and 20th place.
Hamilton won the 2015 Australian Grand Prix, and it remains to be seen if he wins back-to back Australian GP at Albert Park, Sunday.
Australian Grand Prix timings: 4 p.m. local time, 10:30 a.m. IST, 5 a.m. GMT
| | |
| --- | --- |
| Country | TV Broadcaster |
| India | Star Sports 4, Star Sports HD 4 |
| US | NBC Sports |
| Canada | TSN 2 |
| United Kingdom | Sky Sports F1 |
| Middle East and North Africa | Bein Sports Arabia |
| Germany, Italy | Sky Sport |
| France | Canal+ |
| Asia | Fox Sports |