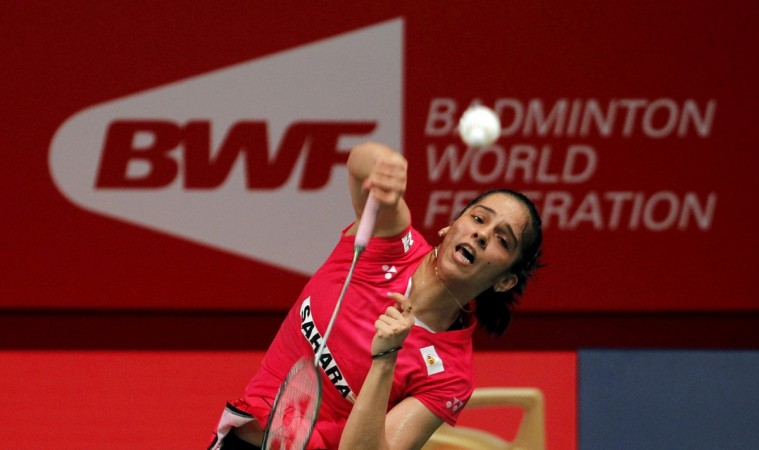 Saina Nehwal has been representing India for quite some time, but she has failed to win any medal in the world badminton championships. The 2015 edition of the tournament could prove to be her biggest chance to claim her first medal as she has shown some brilliant form to reach the last eight of the 2015 World Badminton Championship in Jakarta, Indonesia, where she will face Wang Yihan.
Click here for Saina Nehwal's Live blog.
The second seed reached the quarter finals of the competition after defeating Cheung Ngan Yi in the second round and Japanese star Sayaka Takahashi in the pre quarters. Saina Nehwal received a bye in the first round.
But, her last performance against Takahashi grabbed the attention of fans as she not only put up an amazing performance to win her match, she also showed great character to come back from 8 points down to win the first set.
Her strong will power has helped her win a number of titles and earn the respect of people in a sport that has been dominated by Chinese players for a long time. Gradually, players from other countries have been giving a tough fight to the Chinese players and Saina Nehwal deserves a special mention here for being one of the first players to defeat players from China in the women's circuit.
Saina Nehwal needs to continue the trend as her quarter final opponent, Wang Yihan, is from China as well. However, Wang Yihan has posed huge problems for Saina Nehwal in the previous 11 encounters as the Chinese has won nine matches, while Saina clinched only two.
But, Saina Nehwal can draw some inspiration for their only outing in this year when Saina Nehwal defeated Yihan in straight sets with the score reading 21-19 and 21-6 during the semi finals of the All England Open.
Hence, when Saina Nehwal takes to the court against Yihan on Friday, she will be eager to improve upon her record and also inch closer to her first medal in the world badminton championship. The winner of the clash is expected to meet the winner of the other quarter final (Lindaweni Fanteri vs Tai Tzu Ying) in the semi finals of the competition.
Where to Watch Live
The 2015 World Badminton Championship is scheduled for 11 am local time (9:30 am IST) and Star Sports 4/HD will offer live coverage for viewers in India with live streaming on starsports.com.
Saina Nehwal vs Wang Yihan Quarter Final Live coverage is scheduled for approximately 7 pm local time (5:30pm IST). The timing of the match could go beyond 8 pm as well, depending on the earlier matches. Saina Nehwal vs Wang Yihan Quarter Final is the last game on court 1.
Viewers around the world can follow the game online on Badminton World TV.
Live scorecard of all the 2015 World Badminton Championship matches can be followed here.