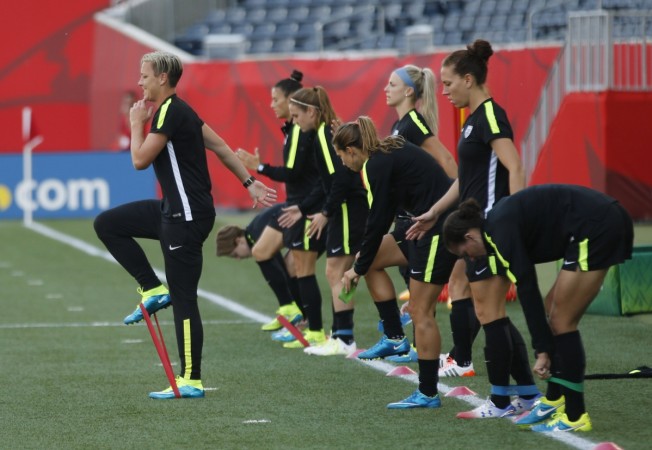 The US are one of the favourites to lift the ongoing FIFA Women's World Cup in Canada. They have looked good in the competition so far and have set up a date with Colombia for a round of 16 clash, which will take place at the Commonwealth Stadium on Monday.
The US finished at the top of the group after defeating teams such as Australia and Nigeria, while they drew with Sweden. The US are a strong side and are expected to progress further in the competition, but the Colombians are not going to hold back; their player Lady Andrade feels that Colombia will defeat the US.
If that happens, it will be a huge shock for the US, as Colombia have just won one game from their three matches in the group stages.
"They belittle us. They think we're a team they're going to walk all over and it will be an easy game for them," USA TODAY Sports quoted Andrade as saying.
"We're going to beat them since they like to talk so much."
Andrade took a dig at their playing style, saying the US play a 'physical' game, whereas Colombia plays with 'touch and movement'.
"They play very physically, taking a lot of shots, kicking out at you all the time," said Andrade. "Colombia's game is nice to watch, we play with touch, movement, we look for spaces, we try to trick you, to use our skill to deceive you. I think they will have a hard time dealing with this."
But such words are bound to encourage the Americans to play better football and in fact thrash the Columbians by doing the talking on the field.
In another round of 16 game, European giants Norway and England will go head to head at Ottawa to grab that elusive spot in the last eight of the competition.
England have been decent in the 2015 FIFA Women's World Cup, where they have gathered six points with two victories, while Norway has one of the best record in the tournament, not losing even a single game in the competition.
The Norwegians are going to be sorely tested by the English team, who, on their day, can defeat any side in the world. England have a serious desire to progress through in the tournament.
"We want to progress in this tournament, we're ambitious and we're building momentum, but there are tough challenges ahead, " BBC quoted England coach Mark Sampson as saying.
If England defeat Norway, they will face hosts Canada, who have already booked their quarter-final spot defeating Switzerland in the round of 16.
Where to watch Live
FIFA Women's World Cup match between the USA and Colombia round of 16 is scheduled for 8pm ET (5:30am IST, 1pm BST) start, while England and Norway clash is scheduled for 5pm ET (2:30 am IST, 10 pm BST) start. (There is no live coverage in India)
Viewers in the US viewers can watch the game live on Fox Network with live streaming on Fox Soccer2 Go.
Those in the UK catch the action live on British EuroSport 1.