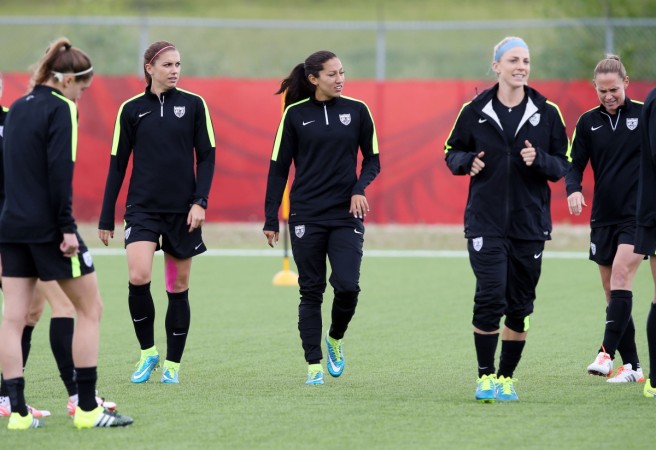 After teams such as Canada, the Netherlands, Norway and Germany won their first match in the 2015 FIFA Women's World Cup, the US and Japan will be in action on Monday night against Australia and Switzerland respectively.
The US are pitted in group D, which includes Australia, Sweden and Nigeria. They are one of the favourites in the competition and should not have much problem progressing from the group stages. Still, they cannot take teams lightly in the 2015 FIFA Women's World Cup.
The Americans will be eager to start the competition on a right note against the strong looking Australians, who are ranked 10 in women's ranking, at Winnipeg. The US have some top players in their ranks, which includes their quality forward, Alex Morgan.
But Morgan has not played any sort of competitive matches since 11 April, which might be a cause of concern.
Morgan is available to represent his country and will be ready if she is called upon to start by coach Jill Ellis.
"If called upon to start, I'd be ready to start," NBC Sports quoted Morgan as saying. "Obviously I don't know what Jill's plan is, but if I need to play 90 (minutes), then I will play 90."
Ellis is happy that Morgan is back in training. "Alex has been back in training, fully. So, you know, I think she's available," Ellis said. "Obviously we're going to look at what our needs are, but I'm just excited now that she is back in 100 percent training – looking great, sharp."
Even if Morgan does not get a chance to start against Australia, she is still an integral part of the team and hence other team players need to rise to the occasion when asked.
Ellis is also aware of the experienced Australian, Lisa de Vanna, who will play his 100th game of her career and could pose as a major problem to the US. With injury to Claire Polkinghorne, Venna might be given the much crucial arm-band against the Americans.
"I'm excited, I think I'm excited because of the circumstances at a world cup, against the US, against a big team and a team we haven't won against before. Just the sentiment of it. I'm always looking to the next game and striving for me so the whole situation and the hype about it is what makes it exciting. If I can push it to a hundred and fifty it won't be any different," The Sydney Morning Herald quoted Vanna as saying.
Though it is the US-Australia match, which will attract a number of eyeballs, another match featuring one of the major contenders, Japan, against Switzerland will also be closely watched. The match is going to be played at Vancouver.
Japan will be eager to retain their title, which they won four years ago in Germany, where they defeated the favourites, USA, in the title decider.
Japan are expected to walk out of the group stages with ease, but their real test will lie in the knock-out stages with top teams from across the globe expected to face one another. They have a relatively experienced squad and need not break much sweat against the 19th-ranked Swiss team.
Where to Watch Live
The US vs Australia clash is scheduled for 6:30pm local time (5am IST, 7:30pm ET, 12:30am BST) and Japan vs Switzerland match is scheduled for 7pm local time (7:30am IST, 10pm ET, 3am BST) (There will be no live coverage in India).
The US viewers can watch the game live on Fox Sports 1 with live streaming on Foxtel.
Australian viewers can watch it on SBS One Australia.
The UK viewers can catch the action live on BBC Two, while Japanese viewers can watch it on NHK Japan. Swiss viewers have the option of watching it on RTS Deux as well as RTS Sport.