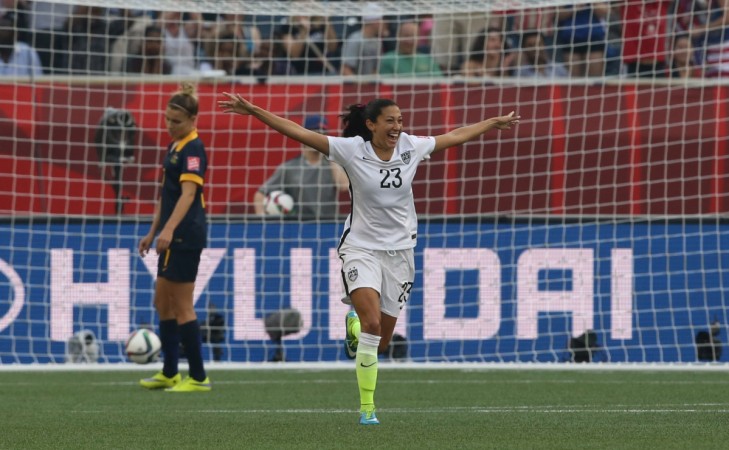 After failing to win against Nigeria in their first match of the 2015 FIFA Women's World Cup, Sweden will be eager to defeat one of the favourites for the competition USA, as they play against one another at Winnipeg stadium on Friday.
Ever since the fixtures were announced, this group D Clash between Sweden and the US was widely anticipated.
The US have started the competition, as expected, on a bright note after defeating Australia, 3-1 in their first match. But the US are not going to take Sweden easy for they are ranked fifth in the FIFA women's rankings.
The US might also be aware of the European giants, who defeated them in the last edition of the tournament four years ago. The US will not want to suffer the same and face a tough knockout rounds in the competition.
The US have a huge dream as they are expected to go all the way in the competition. Failing to win the competition will be a failure, feels the US midfielder, Christen Press.
"We believe we are the best in the world and that we have the expectation for us to win this tournament — and anything short will be a failure for us," USA Today quoted Christen Press as saying. "No one is shy to say that."
The US are aware about the importance of their Friday clash, as a victory will more or less seal their place for the knockout stages, where the actual business lies.
"To go into our third game with hopefully six points certainly gives you different opportunities, maybe a different perspective on what you need to do in terms of rest and all those types of things," head coach Jill Ellis said.
On the contrary, loss for Sweden could spell trouble as they will have to win their last game against Australia to have any chance of progressing through.
Sweden needs to come up with a better performance, especially in the defence, which let in three goals against Nigeria, though they also slotted three goals past them.
Sweden looked amazing in the first half, but they might have taken the Nigerians lightly in the second half, as a result of which, they had to walk away with just one point from the match with the score reading 3-3.
Where to Watch Live
FIFA Women's World Cup match between Sweden and the US is scheduled for 7pm local time (5:30 am IST, 8pm ET, 1am BST) start. (There is no live coverage in India)
US viewers can watch the game live on Fox Network with live streaming on Fox Soccer2 GO and NBC Deportes.
Sweden viewers can catch the action live on TV4 Sweden and viewers on BBC Two.