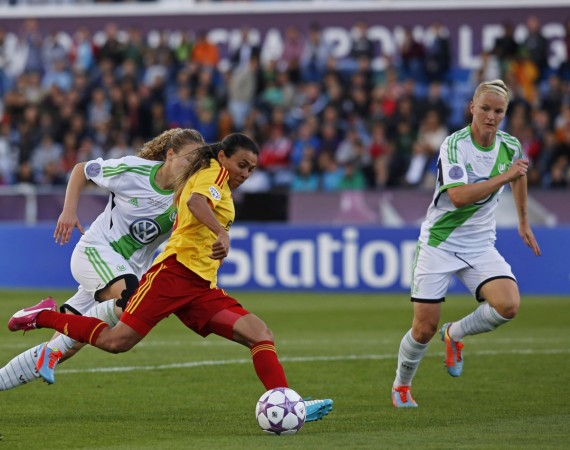 Top two European nations France and England will start their 2015 FIFA Women's World Cup campaign in group F at Moncton Stadium on Tuesday. Colombia and Mexico are the other two teams in the group, and hence England and France are expected to progress through from the group stages.
But both the teams might want to top the group as well, so the game is of utmost importance in the group, which might decide the standings.
France are one of the favourites in the competition as they are ranked third in the FIFA rankings and England are just three places below on sixth. France have always proved to be a thorn in the flesh as they have been ousted by the English team in the 2011 World Cup and Euro 2013 as well.
The French are a good team, but England coach, Mark Sampson believes they can win the match if they are at their level.
"France are probably ahead of us at the minute, the world rankings don't lie," BBC quoted Sampson as saying. "When we are at our best we are at their level and we can win this match, but we haven't done it enough."
France, who have some solid players, will make life miserable for English players and look to hand them another defeat.
Though there might be problems related to illness, all 23 English players took part in training on Sunday.
"We're assessing a couple of players in relation to the illness," said Sampson. "The positive thing was that we had all 23 take part in a full training session on Sunday. I'm confident we are in a great place to pick from that 23."
However, England-France clash is not the only match that is going to attract eyeballs as Brazil, the seventh rank team, will take on Korea Republic at Olympic Stadium.
Despite being a strong team, Brazil have never won the Women's World Cup as their best has been a runners up finish in 2007. They will be eager to go one better this time and they have the ammunition to do so as well.
Their star player, Marta, needs to be on top of her game to help the Brazilian team lift the title for the first time.
Korea may not prove to be a huge threat, but they have a number of players who have participated in the FIFA U-20 Women's World Cups, so they have a decent chemistry on the field.
"We've got a plenty of players with the potential, who have taken part in the previous FIFA U-20 Women's World Cups," Korea Republic coach Yook Dukyeo told FIFA's official website.
"Hopefully, they will come of age at Canada 2015 as long as they can keep up the good work alongside established veterans. In fact, finding the balance and the harmony between the groups will be the key to our success."
Where to Watch Live
France vs Australia clash is scheduled for 1pm ET (10:30pm IST, 12:30am BST) and Brazil vs Korea match is scheduled for 7pm local time (4:30am IST, 12 am BST) (There will be no live coverage in India).
The US viewers can watch the game live on Fox Network with live streaming on Fox Soccer2 Go.
Australian viewers can watch it on SporTv 2 and French audience can catch the action live on Eurosport France.
The UK viewers can catch the action live on BBC Two.