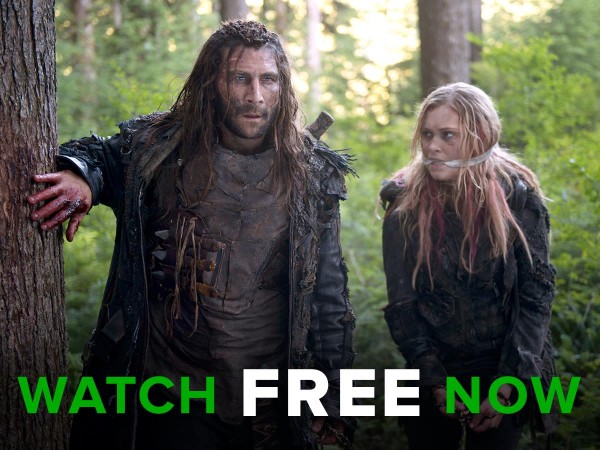 "The 100" Season 3 had admittedly started off on a slow note but Episode 2 "Wanheda: Part Two" has the fans at the edge of their seats, biting their nails. Episode 3 "Ye Who Enter Here," which will be aired on Thursday, 4 February, will take the story further and give the fans an exclusive tour of the Polis for the first time.
In the previous episode, Clarke (Eliza Taylor) was kidnapped by the grounder, Roan (Zach McGowan), who took her to Lexa (Alycia Debnam-Carey as). However, on their way to Polis, Bellamy (Bob Morley) and other Sky People spotted them. Without informing the others, Bellamy followed their trail and found Clarke tied up, but before he could save her, Roan attacked him and injured his leg.
While Lexa was happy to see Clarke safe, it was clear that the latter was furious and had not forgiven the commander of the allied grounder clans for abandoning at Mount Weather. She spat on Lexa's face and was literally dragged away by two Grounders as she shouted, "You wanted the commander of death? You've got her."
In the upcoming Episode 3, Lexa would try to speak with Clarke again and tell her that she wanted her and the rest of the Sky People to bow down to her and pledge allegiance to the grounder clans under her. However, Clarke realises that Lexa does not care about the Sky People and the only reason she is making the offer is because Clarke's actions at Mount Weather made Lexa look weak, and now she wants to prove to Ice Nation that she is in fact a powerful leader.
Also Read: 'Casifer' finds a way to defeat Darkness in "Supernatural" Season 11?
In the sneak-peak from "Ye Who Enter Here" shared by E Online, Clarke is seen telling Lexa, "If you want the power of Wanheda, kill me.. Take it. Otherwise, go float yourself, because I will never bow to you."
Roan, too, is angry with Lexa for not fulfilling her end of the deal by lifting his banishment. The Ice Nation prince tells Clarke that he wants revenge and Wanheda is only happy to help. They might plan an assassination attempt on Lexa in the upcoming "Ye Who Enter Here."
Meanwhile at Arkadia, Bellamy is at his wits end after he is asked to sit out of all the adventures till his leg heals. He is desperate to save Clarke, but is unable to do so. However, when an unforeseen emergency hits him, Bellamy is forced into action.
The coming episode will see Kane (Henry Ian Cusick) and a few other Sky People at the Polis, possibly going there to take Clarke back, and so, fans will get a chance to see the Grounder capital for the first time. If Kane's reaction in the promo is anything to go by, Polis is going to a spectacular city.
Watch Season 3 Episode 3 of "The 100" at 9 pm (EST) on Thursday, 4 February. You can also live stream "Ye Who Enter Here" via CWINGO or The CW Website.