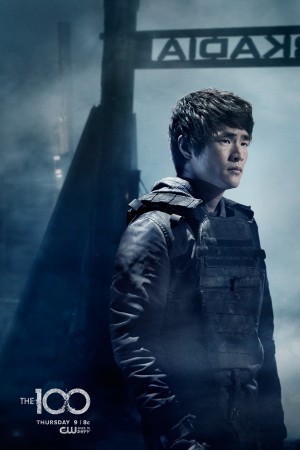 After the long wait, "The 100" Season 3 premiered on Thursday, 21 January, and there is a relative peace in post-apocalyptic Earth. However, Episode 2, titled "Wanheda: Part Two", will establish more drama and prove the borders of Arkadia will not be enough to protect the Sky People.
Towards the end of Season 3 Episode 1 of "The 100", Clarke got kidnapped by a Grounder, and in the upcoming episode, the friends she left behind in Season 2 finale will watch out for her. Unfortunately for them, they will be trapped by a group of people who look nothing like Grounders or Sky People.
Bellamy (Bob Morley) will be the first one to be captured by these new threats, and when the rest of them get out of the stake-out vehicle, they will all be roughly handled. And while they will mostly give in to the attackers without much retaliation, Monty (Christopher Larkin) will get angry when they try to take one of his gizmos.
Also Read: Goth Felicity visits, Laurel heading to her grave in Arrow Season 4
However, Bellamy will try to calm him down, when one of the attackers exclaim, "Monty?" Having heard Monty disbelievingly reply with "Mom?" in the promo for "Wanheda: Part Two", it is safe to assume the Farm station from the ark landed safely.
It looks like Monty's mom joined the Ice Nation army and that Monty will finally get a storyline that is not clubbed with Jasper (Devon Bostick), who has become one of the darkest characters of the series. While Monty and his mother figure out their loyalties, Clarke will be seen struggling to survive by claiming she is no one worth importance.
All the Grounders are looking for "the great Wanheda", aka the Commander of Death, and the trailer for the episode ends with Clarke yelling, "You wanted the Commander of Death, you got her!"
Watch Season 3 Episode 2 of "The 100" at 9 pm (EST) on Thursday, 28 January. You can also live-stream "Wanheda: Part Two" via The CW Website.