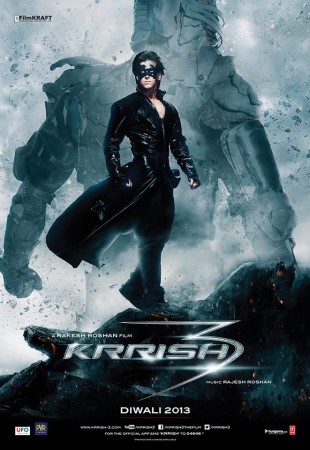 The first trailer of Bollywood's highly awaited superhero sequel "Krrish 3" has been released today, showing lead actor Hrithik Roshan all bulked up and in his masked-superhero avatar once again.
A sequel to the alien friendly "Koi Mil Gaya" and "Krrish", "Krrish 3"s first trailer begins with the possibility of a milestone discovery by the Rohit (Hrithik's character) followed by the introduction of evil genius 'Kaal' played by Vivek Oberoi.
The master villain's aide is the vamp played by Kangana Ranaut whose look reminds one of a mixture of Catwoman and Black Widow.
Along with the duo, the trailer shows another evil and alien subsidiary to contest the hero in is his battle to save the world.
Priyanka Chopra is seen in a minor glimpse and is evident that she resumes her role of Hrithik's ladylove in the film.
The Rakesh Roshan directed flick has plenty of animation as seen in the scenes of the superhero's feats - one of which is preventing a building collapse.
'Krrish 3' is set for release in the festive season of Diwali. And in a first for any Bollywood film, it will release on Monday and not the usual Friday.
The "Krrish 3" trailer is bound to be a big hit amongst children, mostly with the clichéd treatment of good versus the baddie genre.
Here is the official trailer of Flimkraft production "Krrish 3":