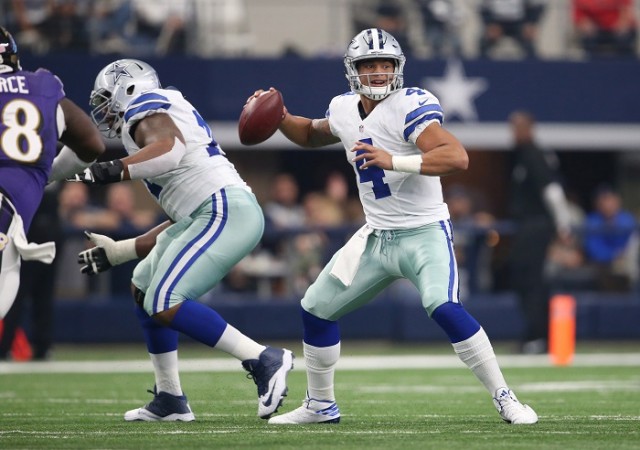 The Dallas Cowboys will want to continue their brilliant run in the NFL this season when they welcome the Washington Redskins to the AT&T Stadium on Thursday. Dallas has been one of the best teams this season, and they will want to show why on Thanksgiving Day.
At 9-1, the Cowboys comfortably lead the NFC East from the 7-3 New York Giants and the Redskins, who are 6-3. The last thing Dallas will want is to throw away the brilliant start the have had to the campaign, so they will be mindful of keeping their winning run intact, which is currently at a franchise best nine.
The Cowboys run began with a win over the Washington Redskins, with Dallas picking up a 27-23 win in the capital. Eight more wins have followed since, and the Redskins are determined to stop Dallas' momentum.
"We went into the first game blind," Redskins cornerback Bashaud Breeland said. "I wouldn't say it (playing them again) gives us an advantage, but we have insight into what we're going up against. It's hard to defend your enemy when you don't know what's coming. Now we know how to handle it and counterbalance it."
One of the players Washington will have to handle is rookie quarterback Dak Prescott, one of the main reasons behind the Cowboys form this season. Prescott has stepped up in the absence of Tony Romo quite brilliantly, before keeping his place in the starting lineup even after the veteran QB returned to fitness.
"He sees it and if it's not there, he's not taking it," another of the Redskins cornerback Josh Norman, who will hope to find an interception or two, said of Prescott. "It's that simple. He has a great cast around him that allows him to do certain things, but he's playing really good ball. I like him a lot.
"I tried to get him on a couple things when we played him, but he wasn't having it. That lets me know this guy is pretty good."
Washington has been pretty good in the last couple of games, beating the Minnesota Vikings and the Green Bay Packers, with their quarterback Kirk Cousins in great form, winning the NFC Offensive Player of the Week Award for his 375-yard, three touchdown showing against the Packers.
It goes without saying the Redskins will need Cousins to be at his best, and then some, if they are to stop the marauding Dallas Cowboys.
Where to Watch Live
Washington Redskins vs Dallas Cowboys is scheduled for a 4.30pm ET (9.30pm GMT, 3am IST next day) start. Live Streaming and TV information is below.
India: TV: No live coverage.
USA: TV: Fox. Live Streaming: Fox Sports Go.
UK: TV: Sky Sports 1. Live Streaming: Sky Go.
Australia: TV: ESPN. Live Streaming: Foxtel.
International (including India): Live Streaming: NFL Gamepass.