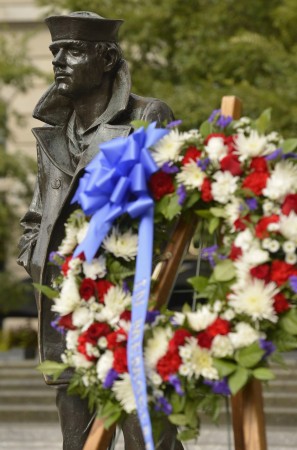 Indian-American defense contractor Vishnu Pandit was among the 12 people killed in a shooting rampage at the Washington Navy Yard on Monday. He is survived by wife Anjali Pandit, two sons and a granddaughter.
The 61-year-old marine engineer and naval architect migrated to the United States from Mumbai in the mid-1970s in search of a better future, according to Press Trust of India. He studied in a marine engineering college in Calcutta before enrolling at the University of Michigan for further studies.
"Kisan took great pride in being employed by the United States Navy, which he very proudly served in various capacities as a civilian for over 25 years," Pandit's family wrote in an obituary shared with The Washington Post. "Kisan felt extremely privileged to have contributed to the superiority of the U.S. Navy and the country that he served."
M Nuns Jain, a friend of Pandit from their days at a Calcutta university, told Huffington Post that he was a "pioneer."
"He persuaded me to come to the States," said Jain. "He was a pioneer. I followed him ... I wasn't too keen on it. He talked me into it."
"He definitely lived the American Dream and achieved it. It's disheartening that the one flaw in the American system is the uncontrollable proliferation of guns," he added.
Pandit's family is planning to hold a private funeral service. They have encouraged donations to the Wounded Warrior Project, any charitable organisation supporting the US Navy or the Humane Society of Montgomery County, in lieu of flowers, according to PTI.
Meanwhile, Nina Davuluri, who became the first Indian-American to be crowned Miss America title on Sunday, has sent condolences to the families of the victims.
"With great American pride, I'm honored to begin my year of service as Miss America with a visit to Freedom Tower NYC; a symbol of our nation's resilience, strength, and unity," Miss America Organization posted Nina's quote on its official Facebook page.
Twelve people, mostly military contractors, were killed and eight others injured when 34-year-old Aaron Alexis, a former military reservist, opened fire at Washington Navy Yard on Monday.
Washington DC Mayor Vincent Gray told reporters at a press conference after the shooting that there were 13 fatalities, including the shooter. "We don't know what the motive is at this stage. We'll continue to seek information about what the motive is, but we don't have any reason at this stage to suspect terrorism, but certainly it has not been ruled out," he added.
Bollywood Deplores Racist Remarks Against Miss America Nina Davuluri: