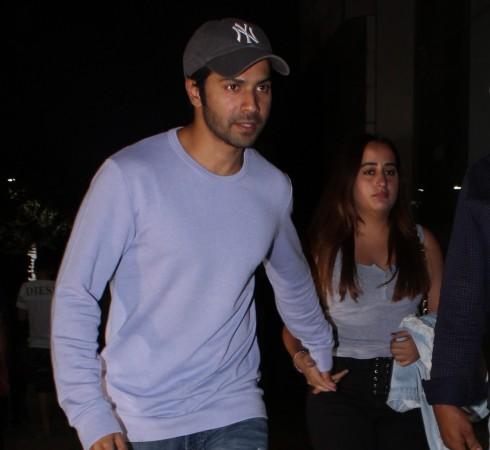 On the work front, Varun Dhawan has been on a success spree, but when it comes to personal life, like anyone, he has his own share of low moments.
He has always refrained from speaking about his relationship with long-time girlfriend Natasha Dalal. But in a recent interview to Hindustan Times, while speaking about the people whom he disappointed in life, it looked as if he was hinting at his rumored break-up with his girlfriend and childhood friend that had been doing the rounds some time ago.
Varun has no flops to his name in six years of Bollywood career. He has become one of the most bankable stars in the industry.
But when he was asked whether his back-to-back success gave him a sense of entitlement, the actor replied, "Really? Is this what it looks like: that everything is rosy? Even I've had my shares of lows. Very recently, my personal life was in a big dilemma, and I was going through a lot of other issues that took me time to come to terms with. I learned a lesson that life is too short. But, yes, as for hits, I feel blessed and lucky to have worked with the people I've worked with."
"It's very difficult to keep all this going. There's no time for family or loved ones and that's worse than anything in the world — to let down my mom or dad, because I can't give them time; to let down any cousin who's unwell and I'm not able to see them... that's way more disheartening than anything else. I just feel that now, I'm not there [for them] anymore. I'm there for the public in a way, and I'm working for them and giving them what they expect. So, being successful is a double-edged sword. It's not possible to have it all. Aakhir mein kuchh na kuchh toh kam pad hi jaata hai (After all, you do fall short somewhere). No matter how hard I try, I do end up disappointing a lot of people and I know I have to live with that," he added.
It was rumored that Varun and Natasha broke up a couple of months ago when the latter missed Anil Kapoor's Diwali party and flew to Bangkok with her friends. However, the split rumors were quashed when they were spotted together on a movie date and surprisingly, the two didn't shy away from the paparazzi.
It was also reported that Varun and Natasha have finally decided to take their relationship to the next level this year after the actor moved into his new house.
Earlier, when he was asked if would like to get secretly married, Varun had told Bombay Times, "Honestly, I would love to do that, but I don't know how my parents would react to it. Being Punjabis, they would want to do it the traditional way. The next step is something every individual wants to take at some point, but right now, it's not on the agenda. I have just moved into my new house, and I want to enjoy this part of life for a couple of years before I think of the next step."
While Varun is yet to make his relationship with Natasha official, it remains to be seen if the actor would culminate it in a marriage.