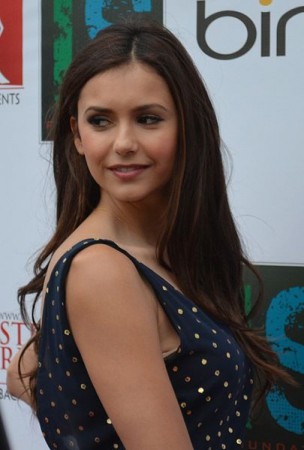 "The Vampire Diaries" actress Nina Dobrev's transition into films might have contributed to the demise of her relationship with Ian Somerhalder, a new report claims.
The actress reportedly believes that her fan base would suffer if she is linked to someone, and this might have prompted her to call off their romance, according to Celeb Dirty Laundry.
Pointing out Dobrev's topless scene in "Let's Be Cops," the report noted that most upcoming young stars are projected as sex symbols and when they are publicly involved with someone, most male fans tend to get uninspired and lose interest.
Interestingly, this is not the first time that actors have had to hide their significant others during their initial days in the industry.
For instance, it was earlier reported that "Divergent" actor Theo James having a girlfriend was kept under wraps, as producers did not want to jeopardize the fan-base of Shailene Woodley and the actor.
This news follows yet another report claiming that Dobrev and Somerhalder have already rekindled their relationship, but they are not yet ready to go public with the news. This time around, they do not want their relationship to unfold in front of the cameras, reports claim.
Dobrev's mistrust of Somerhalder is yet another factor that is forcing them to keep their romance private.
"Ian's wandering eye makes it hard for her to take a relationship seriously," a source told HollywoodLife. "She likes him more than he likes her but he wants the bachelor life now that he can take advantage of it."
However, another report claimed that Dobrev was not ready to settle down, which was what Somerhalder reportedly wanted.
"[Ian] was starting to talk marriage and she's just getting started on her career," a source close to the actress revealed to Life&Style. "She loves him, and they still talk every day, but she is just not ready to make that huge commitment yet."
Dobrev and Somerhalder met on the sets of "The Vampire Diaries" in 2009, and started dating soon after. However, they made their relationship public only in 2011, and two years later, they called it quits.
Since then, rumors of them getting back together have refused to die down, although both Somerhalder and Dobrev have been linked to other people.
The authenticity of the latest claims regarding their split cannot be ascertained until either Somerhalder or Dobrev speak out on what really contributed to their break up.
The pair will once again reunite on screen when "The Vampire Diaries" returns for its sixth season in October.